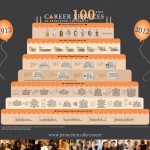 It's somebody's Birthday! Career Services is having its centennial celebration this year, and you're invited to the party.
The office, founded as the "Self-Help Bureau" in 1912, has passed through some significant changes over the last century, but one thing has remained the same—its commitment to students. Throughout the years the office has served students and alumni in a feat that has helped land students in hundreds of thousands of jobs. Today, Career Services is a staff of 16 full-time professionals plus student workers and volunteers. Together they are responsible for putting on an informational event nearly every day, around five job or internship fairs yearly, meeting with around 50 students a day, reaching out to hundreds of companies and organizations, organizing the hustle-bustle of job and internship interviews throughout fall and spring, and much, much more.
Today more than ever, Career Services thrives to have a close relationship with the students it serves. Whether it's meeting with students for counseling sessions, hearing feedback on events, engaging with students of all classes, or publishing student reports on Princeternships, Career Services has taken recent strides to incorporate student voices. In recent years, Career Services has been bringing students into the office—this time behind the desk. Student workers greet you at the front and make sure the office's busy schedule runs smoothly. Student interns help take care of communications and graphic design for flyers and promotions. Career Peer Advisors help underclassmen with the job search and help plan and run informational events in residential colleges. Student volunteers lend a hand at major events as well. And bloggers (like me) research and report the latest buzz in Career News.
"Student feedback and input is essential for Career Services so that we can effectively tailor our events to meet their career needs," said Eva Kubu, Manager of Communications and Outreach at Career Services.
On a personal note, working at Career Services has provided me the unique opportunity to communicate between the office and my peers. I can certainly vouch for the resources that Career Services offers, but most often I find myself persuading my friends to go see a career counselor–"So and so is really great with this particular field–and she's a great person, too!" It's rewarding to know that my work is helping keep my friends and classmates informed and up-to-date on the many professional opportunities that await them. It's especially inspiring to me as I watch friends come in for interviews in Career Services, find their dream internships, head toward fulfilling, meaningful jobs, or go to a great grad school after graduation. I just think, all their hard work paid off–if they can do it, the rest of us can, too!
Come celebrate Career Services' birthday by taking advantage of several important commemorative events this year.
Alumni Connections Student Networking Event
6 p.m. March 4, 2013, at Prospect House.
All students are invited to register for a chance to speak with over 40 alumni across many different industries.
Summer Internship and Nonprofit Career Fairs
11 a.m. to 3 p.m. Friday, Feb. 15, 2013, at Dillon Gym
Come learn about the many job and internship opportunities available to you—and speak directly to employers.
Upcoming: A reception is planned for April, in which Career Services will host alumni participants in the "Princeternship" program. In addition to honoring the Class of 2013 as the 100th graduating class that Career Services has assisted, the office will host an open house for alumni during reunions.
Still curious about Career Services history at Princeton? Check out this super cool infographic as well as the University homepage article to learn some rather surprising anecdotes from your university's job search history! And most of all—keep that student feedback coming in! You can e-mail me at career@princeton.edu.