Welcome to Campus!  The General Interest Career Fair is coming up on campus in a few days. That's right—you can find employers, companies, post-grad programs—maybe even a J-O-B!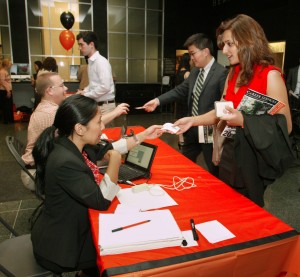 This Friday over 100 organizations will be there to greet you, hear your elevator pitch, and discuss their organizations as well as the post-grad opportunities they offer.
Freshmen and sophomores sometimes erroneously believe that they should not go to the career fair until junior or senior year.  This is a common misperception. Here are some excuses heard around campus:
I'm a freshman. I don't need to start thinking about a career!
I have no idea what I want to do post-graduation, let alone for the next six years—let alone for the rest of my life! Yikes!
But Rocky's lunch looks so good, and I already missed the curly fries last week!
First of all, I love curly fries as much as the next Rockyite, both let's face it: both lunch and the Career Fair last for a while. There's no reason you can't eat curly fries AND focus on your future between 10:30 am and 2:30 pm this Friday. The career fair is for all students and offers the chance to start thinking about careers as well as making valuable contacts for your future.
Second, if you have no idea what you want to do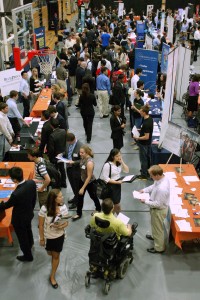 post-graduation, a Career Fair is the perfect place to do your research. You can either spend your time looking at stock photos of smiling faces on company websites—or you can talk face-to-face with a real representative from that company. Talk about a no-brainer. Even a brief conversation with representatives from different sectors can give you the lay-of-the-land on some career options. You might even change your mind about your career path or find a new avenue to pursue.
And if you end up in the "well….maybe grad school" zone, that's useful information, too! In that case, make sure you make your calendar for the Grad and Professional School Fair on Oct. 4 from 12:30-3:30pm.
And finally, freshmen and sophomores—all we can offer you is a big, emphatic invitation "Come to the Career Fair!"
That's right. Career Fairs are not just for seniors and juniors. Here are some more reasons why:
It's great practice for presenting yourself—putting a suit on (which tie should I wear), dusting off the elevator pitch (or starting one).
Freshman can land internships over the summer. (What?) I'll say it again: Freshmen can get summer internships, too!
Networking takes time, and there's no time like the present. Besides, it's great to get connected with circles outside your hometown network, especially if you're interested in branching out after graduation.
There's no (well, almost no) pressure! When you get to be old like us seniors, you might look back and wish you took the opportunity to visit a career fair before the prospect is accompanied by jolting memories of A Chorus Line songs (Read: "I really need this job!"). Not that we seniors are thinking that! Of course not….
Here's a few resources for front-running freshmen and smart seniors alike:
Here's information on how to work a Career Fair.
http://www.princeton.edu/career/undergrads/interviewing/working-fair/
Check TigerTracks for a list of the employers coming to the fair. Then, do some research so you know the right questions to ask!
Here's how to keep your wardrobe classy and professional. http://www.princeton.edu/career/undergrads/interviewing/dress/
Once you look the nicest you've looked since your graduation photo, hop over to our Linked In Photo Booth to get a professional headshot taken!