by Casey Brown '14
Last Friday, Career Services hosted the All-Princeton Resource Fair for Summer Internships and Funding. The fair featured a wide array of internship and funding opportunities offered around campus–from the Lewis Center for the Arts to the Andlinger Center for Energy and the Environment.
"The variety of programs and departments represented at the All-Princeton Resource Fair is a true testament to the impressive opportunities available through Princeton," said Andrea Rydel, CS's Assistant Director of Internships & Career Counseling, who spearheaded the fair.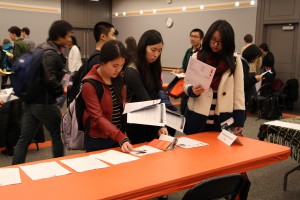 Lasting for three hours, the fair hosted 22 programs and 542 students attended. Every year, students find excellent opportunities for work, study, research, and exploration through Princeton-specific programs.
As Rydel explains, "Summer opportunities can transform your undergraduate education experience."
Among the students at the fair was Martina Fouquet '16. She offered straight-forward advice for fellow students about career and summer plans, "Always explore."
"Keep your options open," said Fouquet. "Even if you have one field you're really interested in, always make sure that you don't close the door on another field you might be interested in. (Follow your heart if) it is pulling you somewhere."
If you weren't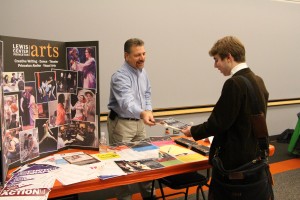 able to make it to the fair, here are some Princeton-specific opportunities you may not know about. Visit the Career Services website for a comprehensive list of Princeton-specific programs and opportunities.
Council of the Humanities
Princeton undergraduates, including seniors, may apply for grants of up to $3000, funded by the endowment of Edwin F. Ferris, Class of 1899, for summer internships in writing, publishing, and journalism, both print and electronic media. The goal is to help students acquire experience in news organizations, including television networks, and in companies that publish books, magazines or other journals. The grants are administered by the Council of the Humanities.
Center for Health and Wellbeing
The Center for Health and Wellbeing (CHW) is an interdisciplinary unit within the Woodrow Wilson School, which seeks to foster research and teaching on the multiple aspects of health and wellbeing in both developed and developing countries. CHW is home to the Program in Global Health and Health Policy (GHP) and to the Health Grand Challenge.
Davis International Center
The Davis International Center is committed to providing services and programs that support the growth, development, and welfare of international students and scholars on multiple levels—immigration regulatory advising and processing, cultural adjustment, social enrichment, and assistance with practical matters related to living in the U.S. The Davis IC also acts as a center for cultural and educational programming that advances cross-cultural understanding and interaction between U.S. and international students and scholars and promotes cultural competency across the University.
Princeton Entertainment Internship Program
This collaboration between Career Services, the Princeton in Hollywood alumni group, and Marc Rosen '98 (Founder, Georgeville Entertainment) provides internship and full-time opportunities within the entertainment industry (film, TV, music). Past participants have interned at companies such as Sony, IMG, CW, Showtime, Georgeville TV, Half the Sky, Shine America, Branded Entertainment, Underground Films, and many more.
Looking Forward
Still trying to figure out job/summer plans? Coming up next semester are more fairs, including the Summer Internship Fair, Nonprofit Career Fair and the Start-up Career Fair.
When it comes to fairs, a little preparation can help you present yourself a pro.
As Anne Haque '17 recommends, "Come prepared with some questions or at least a background on what you're interested in or get the information you need."
Find more tips here and a list of upcoming Career Fairs on TigerTracks.