After a Career Fair, there comes the follow-up. If you made contacts at the fair last Friday, now is the time to send a short acknowledgment of this interaction you shared.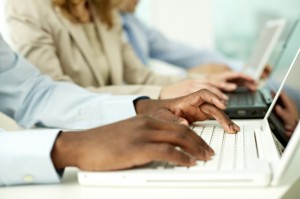 You don't have to be a super hero, but a little etiquette goes a long way to ensure that the job search isn't just a frantic expedition (anyone remember Legend of the Hidden Temple?). This isn't a game show and we don't have to climb through mazes or swing on plastic vines to 'win.' Thankfully, this is the real world and leaving a lasting post-career fair impression is as simple as writing an email.
Here are some tips that will help you set a personal record in follow up email writing:
Keep it professional. Even if it's an email and you're tempted to put an emoticon. Just don't do it. Also, don't send a thank you note from your phone. Autocorrect is one thing, but even if you spell everything correctly, think of that "sent from my iPhone" message at the bottom. Right—not a good look. A professional tone shows you're serious about the job.
Send it now! The career fair came and went. If you're the kind of person who sends holiday thank you notes in March, fight your nature before your contacts have forgotten you! Write a note NOW! Besides, being prompt is an integral part of putting your best foot forward. Which brings me to…
Helping your interviewer remember you. Jog their memories, and perhaps mention a topic of conversation. The first line is a good place to reference where you met and under what circumstances (Career Fair, of course).
Affirm your interest. Perhaps you were passionate about a certain position the company offered. Mention that again and take the chance to reconnect that with your strengths. Being forward is often expected.
Wait, there's more? Offering to provide additional information is always helpful to both parties. Maybe you're not writing an email, but in fact a cover letter as part of a job application. If so, then turn here for more information.
Bottom line, if you consider working for and with a professional community after graduation, the Career Fair conversation could be your first person-to-person interaction within this community. The follow up email could be your second, so here's your chance to make it count!