The following is an interview with Andrea Rydel, Career Services' new Assistant Director for Internships. Andrea started over the summer and while she has met many students already via appointments and events, read below to find out why, if you are looking for an internship, you will want to get to know Andrea.
Casey Brown: Welcome to Career Services! So first, tell me a little about your role in the office.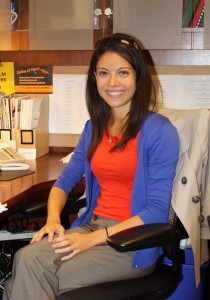 Andrea Rydel: I am the Assistant Director for Internships and Career Counseling. Basically, in my role, I work with students to prepare them for internships and the search process, working on documents like resumes and cover letters and getting students ready for interviews. I also manage the Summer Experience Survey and work with employers to encourage them to post internship opportunities and recruit here.
CB: It's great that you work with both students and employers. We just had the General Interest Career Fair a few weeks ago and there were a lot of employers there. I would imagine a lot of students were looking for internships
there, right?
AR: Yes, there were both full-time jobs and internships available at the fall fair, which is intended to offer a wide variety of  opportunities for all students. I have been letting students know that the fall fair was not focused specifically on internships. Some freshmen who attended the General Interest Career Fair mentioned that they were not able to find many employers who were recruiting first-year or second-year students for internships – though they still had a chance to introduce themselves to employers. The selection of internship opportunities and requirements will be broader at our upcoming internship-focused fairs.
Internship fairs are really great for freshmen, sophomores and juniors, because the positions they're recruiting for are specifically summer internships. They are a great way to start  exploring career paths and summer opportunities. For juniors, summer opportunities can even lead to full-time job offers, which is especially nice.
On December 6, we will host the second annual All-Princeton Resource Fair for Internships & Funding from 1-4 p.m. at Frist. This is a "one-stop" fair covering all Princeton resources for summer internships and funding! Students can learn about a variety of campus resources and programs available for summer internships. Then, on February 14 (on Valentines' Day) we are hosting the Summer Internship Fair from 10 a.m. to 2 p.m. in Dillon. We've actually partnered with the nonprofit career fair again this year, so there's both for-profit and nonprofit organizations that come to the fair – a really great mix of opportunities and different areas of interest for students to explore. We're making a big push with employers this year to hopefully get some more varied opportunities for students. For example, we're trying to get some more companies from the communications industry.
CB: Great! Now, tell me a little about the Summer Experience Survey.
AR: This is a tool that we use with students who are starting their internship searches. Basically, when students fill out the survey, they will provide information for their fellow peers (like where they worked geographically, the company they worked for, whether it was full-time or part-time, etc.). We take all of that information and remove the names, so when the students come in, they can say" I'm looking for an internship in banking," and we can say, "These are the geographic locations students have pursued opportunities in, these are examples of organizations, these are the job functions that they were in" – whatever kind of information we can give to help them make an informed decision. If they're thinking "I really want to be in a certain field, but I don't really know what I want to be doing," we have a database of information to draw on and say, "These are the types of internships you could be doing in this area." Students can complete the survey at http://bit.ly/PrincetonSummerSurvey2013.
CB: So, it's not just a survey, it's also a tool for learning for the Princeton community.
AR: Absolutely. When students complete the survey, they're also really helping their peers and future students who will benefit from the information. It also helps us to determine things like which fields our students are interested in so we can factor that into our employer outreach. It's a great tool. I encourage all students to fill it out before the November deadline. The link is in CareerNews every Monday.
CB: So it sounds like you're busy with a lot of things. Tell me about your average day in Career Services.
AR: It's a lot of meetings with students! Many students are coming in right now with resume/cover letter questions. Some students are already starting career exploration, so they're trying to figure out "What might I want to do this summer? Do I want to do an internship? Do I want to study abroad? What would help prepare me for a job search once I graduate?" Most of my day is spent speaking with students, researching for students to find resources for them if they're going for something more specialized, coordinating the survey and planning programs that cover broad areas of career exploration and preparation. A lot of administrative tasks fold into helping the students.
CB: Do you have any hobbies that you'd like to share?
AR: I do! I like to read. I'm currently
reading the newest Dan Brown book, Inferno. It's fantastic, as all of his books are. I really enjoy fiction because it's a great escape, but I also really like biographies and anything written by the Heath brothers or Malcolm Gladwell. I also enjoy running or practicing yoga – it clears my mind and I love the stress relief.
CB: We all do around here sometimes, especially in the fall! Do you have any particular academic or professional subjects that really interest you?
AR: I was a psychology major, and my master's is in counseling, so I really like thinking and learning about how the human mind works and how emotions play into that. I used to do research in human emotion and scent, which is a really interesting topic. So I do keep tabs on that field because I think it's so fascinating.
CB: That's really interesting. What's the number-one piece of advice you want to give to students who are looking toward their career paths, into internships or their jobs in the future.
AR: I think at times it's di cult for students to follow their heart, because they know that they're interested in or passionate about one thing – and they're being pulled that way by their heart – but another part of them is saying "But I really should be doing this" or "everybody else is doing this." My advice would be to go with your heart, do what you're passionate about. If you're excited by something, and you can't wait to learn more about it, and you want to work on it or do research on it or do something professionally with it, listen to your inner voice. We typically succeed the most doing what we love.
CB: Great, thanks so much.
AR: Thank you, Casey.