As soon as you set foot on Princeton's campus, hundreds of summer opportunities are available to you —study abroad programs, summer internships, summer fellowships, and more. There are so many opportunities and so many paths to consider. Where do you start?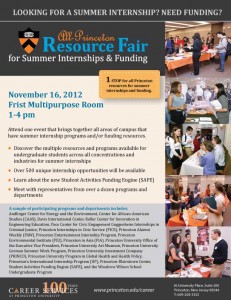 Navigating campus resources can be overwhelming. The good news is that an event is fast approaching where you'll be able learn about a variety of Princeton resources for internships — all in one place. On November 16th, Career Services will be hosting the All-Princeton Resource Fair for Summer Internships & Funding.   From 1-4 pm, Frist Lower Level will turn into your "one-stop smorgasbord" for internship opportunities and funding options.
"This fair is a wonderful opportunity to learn about the different internship programs and funding options available specifically to Princeton students," said Jennifer Prudencio, Assistant Director of Internships and Career Counseling and fair manager.
"Departments and programs attending will together represent hundreds of intern positions!" The fair will include opportunities as diverse as Princeton's many departments. "Programs will be representing areas such as nonprofit/public service, arts, education, entertainment, international affairs, entrepreneurship, technology, research, finance, and environment, to name a few," said Prudencio.
Participating departments and programs (so far) include: Andlinger Center for Energy and the Environment, Center for African-American Studies (CAAS), Davis International Center, Keller Center for Innovation in Engineering Education, Pace Center for Civic Engagement Guggenheim Internships in Criminal Justice, Princeton Internships in Civic Service (PICS), Princeton Alumni Weekly (PAW), Princeton Entertainment Internship Program, Princeton Environmental Institute (PEI), Princeton in Asia (PiA), Princeton University Office of the Executive Vice President, Princeton University Art Museum, Princeton University German Summer Work Program, Princeton University Investment Company (PRINCO), Princeton University Program in Global Health and Health Policy, Princeton's International Internship Program (IIP), Princeton-Blairstown Center, Student Activities Funding Engine (SAFE), and the Woodrow Wilson School Undergraduate Program.
One of the advantages of internship fairs is their unique propensity to open up your options. As you wander among the many booths and chat with various representatives, you may just stumble on an opportunity that you never would have considered otherwise. "When I meet with students, I often get the question, "how do I narrow down my options while staying broad so that I don't miss any opportunities?" said Prudencio. "Coming to this fair will help you do just that: learn about new fields or organizations that you may have not considered before."
In addition, the fair will display many funding opportunities available through Princeton. "You will also learn about some funding resources for unpaid internships that you may secure on your own," said Prudencio. "These applications are different from applying directly to an internship position.  Since many of them require that you secure an internship on your own, this can help you to really start thinking outside of the box!"
Representatives from the new student funding portal called Student Activities Funding Engine (SAFE) will also be attending the fair. Students can learn about this new resource, which will help them navigate funding opportunities in one cohesive website.
As Prudencio stresses, there's no time like the present to start planning for summer 2013. "Many of the applications are still in the midst of preparing to go live," said Prudencio. "Deadlines for these programs and funding resources may begin as early as December, so this will help you plan well in advance…You can also learn about the application process and how to prepare your own application."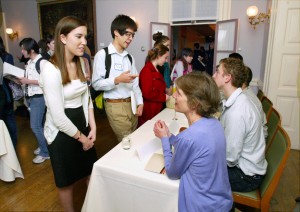 Planning on attending? Prudencio explains how you should prepare. "You can visit the most up-to-date list of attending programs/departments on TigerTracks," she said.
"Read about the program on their websites and come with questions. Imagine yourself preparing to apply for these programs – what would you like to know that you can ask in person? Areas to consider include preparing your application, understanding the program's timeline, and learning about the internships themselves (organizations, benefits of participation, etc)."
Finally, you don't have to break out the tux for this event. Casual or business casual is fine!