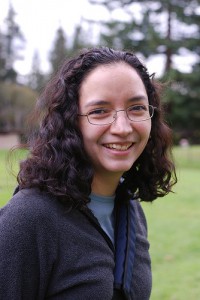 Rosina Lozano is a National Academy of Education/Spencer Postdoctoral Fellow during the 2012-2013 academic year.  She completed her PhD in 2011 from the University of Southern California and currently remains in California as a visiting scholar at Stanford University's Center for Comparative Study in Race and Ethnicity.  
Lozano is completing an article for the Western Historical Quarterly that compares New Mexico and Puerto Rico Spanish language teaching by looking at the ways that regional differences affect language identity.  She is focusing in particular on two major language learning debates that occurred in each region in the early 1940s and is using New Mexico Senator Dennis Chávez to connect the two.
By the end of the year, Professor Lozano will complete a book proposal and several chapter revisions based on her dissertation that examines the politics of the Spanish language in New Mexico and California over the century following the Mexican American War.  The Treaty of Guadalupe Hidalgo made many Spanish speakers US citizens despite a lack of English language skills.  These new citizens and the Spanish speaking immigrants that followed negotiated language politics at a personal, community, state, and national level.  The book looks at the ways in which Spanish language usage affected identity, citizenship, and race.
Although away for the 2012-2013 academic year, Rosina Lozano looks forward to joining the faculty at Princeton University as an assistant professor in the history department beginning in the 2013-2014 academic year.