by Casey Brown '14
This past Saturday, Career Services and the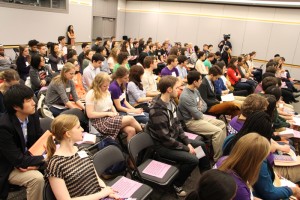 Lewis Center teamed up for the event "Script to Screen & Everything in Between," which hosted over a dozen alumni and industry professionals and a crowd of 120 students.
It wasn't difficult to exit the event determined to go to Hollywood. The panelists' passion for the industry was infectious.
"I would do it [write screenplays] now if I were paid a dollar," said screenwriter David Digilio '96.
The producers and business leaders were no less enthusiastic about their roles in the industry.
"Producing is very right and left brain," said producer Daniela Lundberg '98. "The process of making a movie is very rewarding."
"I just love movies," said Paul Hanson '96, COO of Annapurna Pictures. "The end result is something that's easy to understand and everyone gets it."
Abhijay Prakash '98, who came to Hollywood with a PhD in economics, still remembers his college internship in finance. "I found [it] so stultifying and boring," he said. "I needed to dedicate my career to something I cared about. It's really inspirational work."
"I really love problem solving," said Marissa Griffith '90, who works as an entertainment lawyer. "At the end of the day, it's really fun to go see the movies. It is a very fun industry to be in."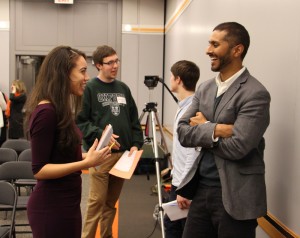 But it's not the easiest or most peaceful industry, the screenwriters readily admit.
"One day everything's great and the next it sucks," said Cormac Wibberly. Writing for TV, he explained, is especially fast-paced. "It's like having a term paper and you're always a week behind," he said.
Nevertheless, the screenwriters spoke to the great rewards of their work. For one, writing is a way to keep learning.
"Writing is an incredibly complex craft," said screenwriter Will Staples '00. "There's always a new lesson and that's really exciting."
"I'm an intellectual A.D.D." said Albert Kim '86, who has worked on scripts set everywhere from ancient Egypt to, currently, the American Revolution with Sleepy Hollow. "I can't think of any other profession where you can just dive into a topic."
The producers offered insight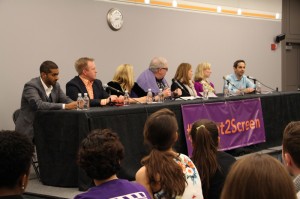 into another role in the industry. This time, the duties were much different, including putting budgets together, bringing in equity, hiring, finding buyers, and putting the film out in the world. But often the role exceeds these administrative duties.
"You have to listen to people's needs," said Howard Gertler '96. "That's a lot of what producing is. … Be the calm at the center of the storm."
"There can be a long part of development where you're a therapist for a writer," said Krista Parris '95. "It's a diverse commitment."
On both the writing side and the production side, there were no magic bullet methods for "making it" in the industry. Instead, each of the panelists seemed to take his or her own path.
"There's no set path to get into the business," said Kim, "but that also means there are lots of ways."
One tip from the writing side: keep writing. One tip from the business side: networking isn't the be-all-end-all.
When it comes to networking versus building a skillset, "I would definitely prioritize the skill side," said Prakash.
One way to build the skills needed to work in entertainment business would be to pursue an internship or further education in business or law, as Griffith advised.
Although the event was specific for producers and screenwriters, it drew a crowd of students with a wide range of interests—actors hoping to pick up tips, playwrights, video journalists, documentary filmmakers, and writers (like me) of various genres.
*photos by Lisa Martiny Festa