Daily Archives:
November 26, 2012
It's Certainly a Thrill: Fred Crüger's Archival Soul
By Prof. Charlotte Jacobs

With Thanks to Fred Allen, Princeton Class of 1616
[Rule No. 451 of College Teaching:
Beware of "optional" assignments.]
Having invited the club to learn, transcribe, and perhaps even complete, a fragment of a chorale melody newly discovered on an archival recording collected in 1649, I ask whether anyone has composed a conclusion.  The lovely audience falls still, and my heart goes lonely.
Then Fred stops the show and raises a smile by offering his conclusion and agreeing to post it, complete with squiggly trillo—especially impressive coming from a post-Baroque clarinetist, for these things go in and out of style—on the blackboard:
I ask whether Fred would like to sing his song, and he asks his classmates, "What would you think if I sang out of tune?" and registers the counteroffer of a piano interpretation.  I sit back, let the morning go, and observe the following:
The astute application of ornaments convinces even the jaded ear that the tune's author is present;
Fred's closing phrase is nearly identical to Crüger's, and, indeed, both Fred and Crüger pretty much repeat the second phrase.  Such economy, such restraint.  And who is channelling whom?  To wit:
The medallion on the back of Fred's t-shirt: a Baroque seal of some sort?
I thought you might like to know:
Upon more careful inspection, the graphic reveals itself: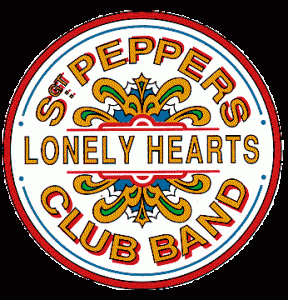 Moreover, as if the preponderance of the mediant third degree in Fred Crüger's intertext were not enough to suggest a parallel, the texts dispel any uncertainty, and so I conclude that the 1649 tune is a recomposition of the title track from the 1967 album—which, in turn, must have sampled today's instantiation.  It is, after all, 2012, and we have just stepped in to the teens' sixties' forties.
Der Herr voll Heil und Gnaden
We hope you will enjoy the show.
lässt dich iztz zu Gaste laden.
Sit back and let the evening go.
Twenty years ago today all would have been different.
It's wonderful to be here.
It's certainly a thrill.
[In our next episode: Gilligan's Island's Carmen's Habañera's Hamlet's Soliloquy]