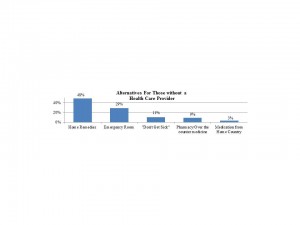 On May 31, 2013 The Program in Latino Studies hosted our first Reunions Event, featuring talks by Ali Valenzuela, Douglas Massey and Patricia Fernández-Kelly. Below is the talk that Professor Fernández-Kelly gave.
I am honored to participate in this discussion which brings together top scholars in the field of immigration and Princeton alumni whose work and influence can be decisive both in terms of the instruction we provide to graduate and undergraduate students and with respect to the field of policy.  Princeton faculty and alumni have been, and can continue to be, a force for constructive change in the rationalization of our immigration system and in the provision of health care to vulnerable populations, including immigrants.
Immigration to America during the last half century has transformed the demographic profile and politics of the nation.  By 2008,
the foreign-born had surpassed 40 million or approximately 1-in-7 of all those in the country.  Immigrants and their children numbered 70 million or almost 1-in-4 persons.   Newly-minted ethnic groups—Hispanics and Asian-Americans—that did not exist officially fifty years ago now represent the fastest growing component of the U.S. population.  Forty million Hispanics alone have become the nation's largest ethnic minority.
In this presentation, I address three main areas.  First, I discuss the general circumstances surrounding two broken national systems: immigration policy and health-care provision, noting that neither of the two can be fixed without correcting the limitations of the other.  In the second part of my presentation, I focus on a study carried out by the Latin American Legal Defense and Education Fund, a grassroots organization founded in 2004 by local activists in Princeton, about the health related needs of Latinos in this part of the world. In addition to the study in question, LALDEF has organized six health-care fairs and other interventions which have included the participation of physicians, nurses, and advocates in the community at large but also Princeton University students working in partnership with LALDEF and involved in Community Based Learning Initiatives. Finally, I offer some recommendations derived from research we have conducted on the subjects of immigration and health.
Immigration and Health Care: Two Broken Systems in Need of Reform
Four years ago, in May 2009 (as part of the roster of activities of the Princeton Center for Migration and Development) I organized a conference entitled WHAT IS AILING U.S.? HEALTH CARE AND IMMIGRATION—ACCESS AND BARRIERS which brought together  top medical administrators, physicians, nurses, community activists and academics in a conversation about health care provision to underserved populations, including immigrants. The conference was a culmination of a two-year long research project sponsored by the Robert Wood Johnson Foundation that focused on more than sixty medical institutions located in South Florida, Central New Jersey, and Southern California, and the way in which they addressed the needs of a large population formed by impoverished people, most of them lacking English fluency and proper immigration status. The main findings of that study are contained in a special issue of the journal Ethnic and Racial Studies and in a book published last year by Routledge.
The 2009 Conference took place at a time of great despair.  Efforts at immigration reform had failed in 2007 and 2009, and would fail again in 2010.  In particular, the DREAM Act, a bill introduced before the U.S. Congress in 2001 to provide relief for children brought to the United States by undocumented parents, had repeatedly been rejected in a climate of mounting hostility and xenophobia that followed the brutal attacks on Washington and New York in September, 2001. Although fear of Islamist terrorists fueled the creation of the eerily named Department of Homeland Security, it was humble Guatemalans and Mexicans who became the target of raids and deportations even as opportunistic members of the Commentariat agitated against "interlopers," "law-breakers," and "burdens on the society."
Under those circumstances it was hard to remember or make others remember that unauthorized immigration was not just the result of people from Mexico or Central America violating civil statutes, but the consequence of an outdated, ineffective, and cruel immigration policy entirely out of correspondence with the needs of the American economy.  To give but one example: while the American labor market generates demand for hundreds of thousands of low-skilled workers, roughly ten thousand visas were being awarded to low-skilled workers from Mexico, a country with which the United States has historical connections both political and economic.  Such discrepancies between market supply and demand, on the one side, and immigration law on the other side made it virtually certain that many immigrants, eager to fulfill the American Dream, would fall outside of the law contributing to the expansion of the undocumented population in the United States.   In fact, as Douglass Massey has shown through his remarkable studies, the harshness of immigration policies after 2001, contributed to the burgeoning of the undocumented population by increasing the costs of circular migration and leading more people to stay in the U.S. rather than face the risks of repeated border crossing. 
The Great Depression of 2008 reduced illegal immigration reminding us that a healthy economy generates demand for foreign-born workers while economic malaise does not.  The paradoxical conclusion for xenophobes and Nativists is this: the solution to immigration is simple—let the economy sink and no one will want to come.  By 2011, the undocumented population originally assessed at 12 million had reduced by a million, still a sizable contingent commensurate to the total population of many nations: a nation within a nation, a nation in the shadows, performing some of the least desirable jobs without protections, without rights, without hope of membership in the larger society.  That population includes between two and three million young people brought into the United States at an early age—individuals who did not break any laws, who are as American as you or me but who are as deportable as those just arrived without papers.
Then, a beautiful thing happened—a thing that some of us, indeed those of us in this panel, had been anticipating for some time but a thing that arrived sooner than expected as part of the 2012 presidential election: the rising power of the Latino vote.  Overnight, pundits like Shawn Hannitty and Lou Dobbs—individuals who had been instrumental in the demonization of immigrants—experienced a miraculous conversion, now supporting immigration reform, including a path towards regularization and citizenship for the eleven million undocumented residents of our country.
This is a critical development not just because it offers the promise of justice and redress to a large number of people who have suffered unnecessarily for a long period of time but also because immigration reform is a critical precondition for the rationalization of health-care provision in the U.S. 
A signal achievement of the Obama Administration was the passage in 2010 of the Affordable Care Act, a notoriously restrained and conservative piece of legislation that is, nonetheless, a welcome step in the direction of universal health care provision.  For political reasons having more to do with the climate of hostility against immigrants than any sensible forethought on the matter, Obamacare excludes undocumented immigrants.  In other words, eleven million people susceptible to illness and work-related injuries are not covered by a program intended to make access to health care more affordable and accessible to vulnerable populations.  This is socially suicidal.  Diseases know no borders and are not constrained by legal status—they spread by contagion to both legal and illegal residents through interaction in schools, places of employment, and public terrains where children and adults are likely to interact with one another.  To exclude undocumented residents from health-care provision is tantamount to creating the potential for an epidemiological disaster.  In other words, for Health Care Reform to succeed, immigration reform must succeed.  Only by fixing the two systems simultaneously will we have the assurance that those living in the United States will have similar access to vital resources, including health care. Providing undocumented people with a path towards the regularization of their immigration status, would allow them to benefit from health-care reform.   A society unable or unwilling to protect its weakest members puts itself at risk. The extension of services to the poor, the immigrant, the undocumented is more than a moral imperative; it is also a practical matter in the attempt to keep health care affordable and accessible to all who need it.
As we know, disparities in access to health care in the United States are unique in the advanced world.  Whether with papers or without them, sooner or later, migrants confront the American medical apparatus, a very costly system geared to those able to pay for services, either directly or through third-party insurers. Health insurance is mostly linked to employment in relatively good jobs. Professional migrants are generally eligible for health insurance; refugees are covered under various federally-sponsored resettlement programs.  On the other hand, manual labor migrants, even if legally in the country, tend to be uninsured or underinsured.  Among the unauthorized, the proportion of uninsured persons is almost 100 percent.
By fits and starts, the federal and state governments have built a safety net for health-disadvantaged population, including the homeless and the unemployed.  But this network is largely restricted to persons legally residing in the country.  Unauthorized migrants and, since 1996, recent legal migrants are ineligible for Medicaid and other federally-sponsored programs. On a yearly basis, more than 1,200 community based clinics in every state and territory serve 20 million people, 40 percent of whom are children.    The end result is to confine unauthorized and poor migrants to the bottom of the health hierarchy, confirming their caste-like status.
 Our study, conducted between 2007 and 2009, yielded alarming and significant findings: Most undocumented immigrants and a large number of documented immigrants are uninsured.  They are over-represented among those with lethal afflictions, including hypertension, diabetes, cardiac arrest, and obesity.  Undocumented immigrants are least likely to seek medical care for a variety of reasons having to do with the demands of their work life and also because of cultural barriers, including language. Location matters—immigrants in South Florida and Central Jersey have greater access to health care than those in San Diego County.
The Health-Care Needs of Latinos in Trenton: A LALDEF Report
Latinos make up one-third of the population of Trenton today (up from 21% a decade ago) and close to 60% of Latinos are foreign-born.  Close to one in four city residents are immigrants. The immigrant population of Trenton has grown by 63% since the year 2000. Latin Americans make up the vast majority (80%) followed by those of African origin (10%). 
Indicators of the rate of immigrant incorporation are troubling.  Less than one in four of the foreign-born are naturalized citizens.  This leads us to estimate that there may be between 7,000 and 8,000 immigrants without legal status, or roughly one of every ten city residents.
The data collected in this sample is representative of the low-income, largely uninsured, primarily foreign-born Latino population of the South and East Wards of Trenton.  Interviews were conducted during two health fairs held at St. Francis Medical Center in August and October, 2012, respectively, and of applicants for the Mercer County Area Community ID Card in Christ Episcopal Church.
Our main findings largely confirm much of what other surveys and needs assessments of similar populations, have already identified. Namely:
Latino immigrants are a significantly younger population than the general population. Our non randomized sample had an average age of 34, and

roughly half were in the 25-35 age range

vs. a fourth in the same age group for the overall city population.
BMI's are significantly higher than the general population, and that of the national average for Hispanic adults, with over

a third in the obese category

(vs. a 23% overall  rate of adult obesity in New Jersey).
Half of the respondents had at least one minor in their care. Only 10% of respondents had large families (3 or more children).
Half of the children were 5 and under, and two-thirds of the children are U.S. born citizens.
Children's health insurance status aligns with their nativity; as a result 37% of the children are uninsured.  As with the adults, this is a significant disparity (7 times higher than the overall rate of uninsured children in Mercer County).
All but 5% of the parents reported that their children's health was good to excellent. As expected, there was a significant positive correlation between child's health status and health insurance coverage.
The adults are largely uninsured (

86% of respondents had no health insurance

).  This is a very large  disparity from the general population at the state (17%), county (15%) or city level (23%).
Most respondents

consider themselves in good health

with 80% reporting their health to be good, very good or excellent.  This is comparable to the rate in the general population.
Unsurprisingly, given the high uninsurance rate, 

3 in 4 respondents have no regular primary care provider

. Home remedies are the most common substitute for medical care.
Lack of health insurance is cited as the # 1 barrier

to accessing health care. Language is also mentioned frequently.
The rate of utilization of health care services among this population is low across the board, including ER usage, and

significantly so among men

.
Recommendations
Overhaul Immigration and Health-Care Laws
Reform of the two systems rests on different principles.  The emphasis of immigration reform should be on the economic importance of cross-border labor flows and the need to manage them on a predictable, fair, and legal way.  By contrast, the emphasis of health care reform should be on the non-economic character of the services provided, removing them from the market and restoring them to their natural function as a public service, dispensed on a universalistic basis.  Providing adequate services to vulnerable populations requires more than health care reform; it also demands an overhaul of immigration policy and new thinking about who deserves medical care. The goal is access to medical care for marginal or impoverished individuals and families, including immigrants, whether legal or not. Fear of deportation and the need to work can create delays that threaten lives and expand the cost of medical care.
Prioritize Primary Care
Primary care is key to the improvement of health and the reduction of costs but several barriers prevent vulnerable individuals from seeking care on a timely basis. Ultimately, the preservation of community health does not depend on individual choices alone—community matters too. Altruism and a vital market economy need not be at war. Better incentives to support primary care, outreach, and community engagement can extend health care services and keep costs down.
 Eliminate Redundancies
Eliminating redundancies and facilitating communication among health care providers through the use of advanced technologies is part of the answer. Connecting primary and specialized care is a vital component. Federally Qualified clinics are key in the mission to extend services A major problem for the extension of health care services to underserved populations is the idea of health as a commodity rather than a human right.  Federally Qualified Clinics may bridge the gap between market forces and altruism. 
 Provide Incentives for General Medical Service and Primary Care
The conflict between personal gain or profits and catering to the poor and underserved also affect the decisions of individuals aiming to become doctors. The ACA provides new stimuli for young professionals to specialize in primary care.  That measure may bring about substantial benefits both for providers and recipients.
 Focus on Cultural Barriers
A major barrier preventing the extension of health care to marginal populations, including immigrants, has to do with culture.  Habitual practices, preconceptions, and fear can worsen health care conditions for many. Farm workers in Southern California face special challenges and risks. Language, the single most important tool to advance communication, can also be a problem. Cultural barriers create special difficulties in the case of sensitive conditions, like AIDS/HIV POSITIVE patients.Immigrants seeking work as day laborers can become the target of sexual predators and human traffickers.  Attempts to help them must break down fear and prejudice.  Not only in California but everywhere else, community organizations can bridge cultural gaps.   This vision cannot work without stressing outreach and community support.
And extending health care services is not just about including immigrants, whether legal or unauthorized. Other vulnerable populations will benefit as well.
 Ultimately, we, as a people must decide what kind of a society we want—one in which fear and prejudice will leave millions far from access to medical care, thus creating risks for everyone, or a society in which health is viewed as a human right benefitting all of US.