The Manuscript Division has had several discoveries as a result of the relocation of on-site collections from myriad Firestone Library storage locations to newly constructed, state-of-the-art vaults. In the process of planning and moving, staff members have occasionally found stray items or collections that had been stored away long ago and forgotten. A case in point are two small collections of Papal lead seals (bullae) donated to the Library between 1898 and 1918. The donors of the two collections were no less than two of the Library's storied early administrators: Ernest Cushing Richardson (1860-1939), University Librarian and later Director of the Princeton University Library, 1890-1925; and Junius Spencer Morgan (1867-1932), Class of 1888, the Library's Associate Librarian, 1898-1909. Both were private collectors and donors to the Library. Unfortunately, when these two collections arrived, the seals were merely accessioned as "museum objects" and stored away otherwise uncataloged. At the time, the future Department of Rare Books and Special Collections was a small holdings unit in Pyne Library, the central Princeton campus library before Firestone Library opened its doors in the late 1940s. Henry Bartlett Van Hoesen (1885-1965), who became the Library's first Curator of Manuscripts in 1913, worked most closely with Princeton's growing papyri collections and had other administrative duties and teaching responsibilities in the Classics Department.
Among the more than two dozen Papal lead seals recently rediscovered, none still attached to documents, is a 500 year-old bulla of Pope Leo X (r. 1513-21). It was among those donated by Junius Spencer Morgan in 1898. Pope Leo X was born Giovanni Romolo de' Medici. He was the son of Lorenzo de' Medici (1449-1492), the Florentine statesman and Renaissance patron of the arts. Leo X is better known today for commissioning works by Raphael (who painted his portrait) and by Michelangelo, than for having excommunicated Martin Luther and conferred on King Henry VIII of England the title "Defender of the Faith." The lead seal is approximately 40 mm in diameter and weighs about 45 grams. On the seal's obverse, reproduced below, we see the bearded faces of the Apostles Paul and Peter, a traditional design. They are portrayed in high relief, and they are identified in accompanying inscriptions (S[anctus] PA[lus]; S[anctus] PE[trus]). Pope Leo X's name and title are on the reverse. Papal seals of this sort guaranteed the authenticity and integrity of official documents or letters to which they were attached by means of a silk cord, traces of which are still evident on Leo X's bulla.
The Manuscripts Division has significant holdings of ancient, medieval, and modern seals, seal matrices, and seal impressions. In addition, collections of historical documents often include examples of individual document with intact pendant seals or impressed wax seals. The earliest seal collections are several hundred stone cylinder and stamp seals from the ancient Mesopotamia, used to seal clay tablets written in cuneiform. Some of the clay tablets bear the impressions made by such stone seals. The John Hinsdale Scheide Collection, donated by the late William H. Scheide (Class of 1936), includes some English, French, and Papal documents with intact seals. Seals are also found in documentary collections assembled and donated by Thomas Shields Clarke, Charles Carroll Marden, Albert T. Reyburn, Chalfant Robinson, and Ernest Cushing Richardson. Over the past two decades, Bruce C. Willsie, Class of 1986, has assembled a fine British sigillography collection, including medieval and modern English royal charters with wax pendant seals, as well as seal matrices and wax seals without accompanying documents. He continues to add to the collection. Finally, the Manuscripts Division recently created a Byzantine seal collection with six lead seals donated by Michael Padgett.
For more information, please contact Don C. Skemer, Curator of Manuscripts: dcskemer@princeton.edu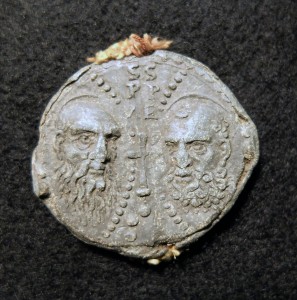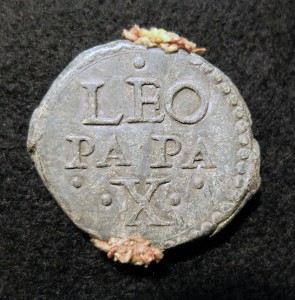 Bulla of Pope Leo X