Few modern mathematicians have ever achieved the public renown of Alan M. Turing (1912-54), a pioneer in the fields of theoretical computer science and artificial intelligence. Turing was a graduate student at Princeton University from 1936 to 1938, studying under Professor Alonzo Church (1903-95), Class of 1924, who taught at Princeton from 1929 to 1967 and was the editor of the Journal of Symbolic Logic from 1936 to 1979. After Turing received his PhD in 1938, he returned to the University of Cambridge. A slightly revised version of his dissertation, "Systems of Logic Based on Ordinals," was published in the Proceedings of the London Mathematical Society, series 2, vol. 45 (1939). In the same year, Turing was recruited to work at the British Government Code and Cypher School at Bletchley Park, located some fifty miles northwest of London. There he played an important role in World War II code breaking efforts. His signal contributions to breaking the Nazi Enigma code greatly aided the Allied war effort, especially the Battle of the Atlantic, and probably shortened the war in Europe by several years. The movie "The Imitation Game" (2014), starring Benedict Cumberbatch and Keira Knightley, had brought wider public appreciation of his work at Bletchley Park.
Turing's remained in touch with his mentor, as we see in the Alonzo Church Papers (C0948). They exchanged letters about current mathematical research interests and publications. One of Turing's autograph letters to Church, probably from 1940, had a Bletchley Park return address. The letter includes a reference to the work of the celebrated mathematical logician Kurt Gödel (1906-78), Institute of Advanced Study, whose papers (C0282) are also housed in the Manuscripts Division.(sSee image below.) But Alonzo Church's correspondence with Turing ends during the 1940s, well before his death in 1954. In a horrible twist of fate, Turing was criminally prosecuted for homosexual acts and cruelly forced to submit to chemical castration, as a result of which he probably committed suicide. Two years later, his mother Sara Turing (1881-1976) wrote to Princeton for details about his graduate work. She occasionally exchanged letters with Alonzo Church, mostly in connection with researching a biography of her son and with possible publication of a volume of his collected papers. In a letter of 6 August 1956, Sara Turing expressed her belief that her son's death by cyanide poisoning was an accident. She wrote: "I am very sure that Alan's death was through some tragic accident. He was very absent-minded when engrossed in any project and the experiment evidently associated with his death … was still going on after it and had been going on for weeks before. Moreover letters ready for post accepting invitations were on his table and he was full of plans scientific and social."
Alonzo Church retained copies of his responses to Sara Turing. While offering no vivid anecdotes about Alan Turing, Church did give considerable advice about her publishing plans and even suggestions of names of people. On 6 October 1956, Church mentioned John von Neumann and Kurt Gödel as people who might offer more information about her son's work with "computing machinery." The final item in the two folders of correspondence with Sara Turing is a printed change-of-address post card, announcing tersely that after 2 September 1974 she would be living at the Stonycrest Nursing Home, in Surrey.
For more information about Alan Turing and Princeton, see W. Barksdale Maynard's article, "Daybreak of the Digital Age," in the Princeton Alumni Weekly, 4 April 2012.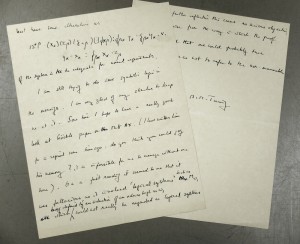 Alan Turing, Letter to Alonzo Church