"Princetonians in Print: 175 Years of Student Publications at Princeton," a new exhibition at the Seeley G. Mudd Manuscript Library, chronicles the history and rich variety of student publications at Princeton from the earliest known student papers to the broad range of present-day online publications. The exhibition opens Friday, Feb. 19, and runs through Friday, July 30.
Drawing on the holdings of the University Archives housed at the Mudd Library, "Princetonians in Print" includes original newspapers as well as artwork, photographs, letters and artifacts. In addition, visitors will be able to listen to sound clips of student radio productions from the archives' audiovisual collections. Bringing the history of student publications at Princeton into the 21st century, the exhibition ends with a slideshow of student publications available online, including a sampling of home pages, blogs, YouTube pages and Twitter accounts.
"This exhibition reveals Princeton's long, rich publication history and how it is adapting to the 21st century," said University Archivist Dan Linke.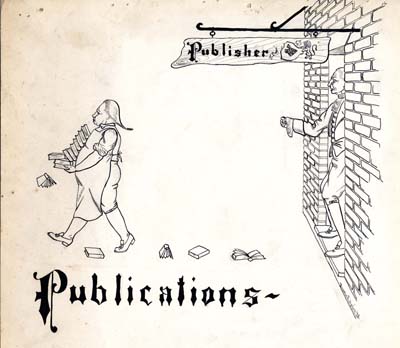 Visitors will see the oldest known student publication at Princeton, The Chameleon of 1835, alongside other early gems such as newspapers, literary journals, pictorial magazines, humorous and "grinding" papers (papers mocking a specific class), and the first campus guide written by students for students in the 1970s.