Princeton University's Seeley G. Mudd Manuscript Library has completed a one-year project to process the papers of George Kennan and James Forrestal, two Princeton alumni who were important figures in shaping U.S. policy at the inception of the Cold War.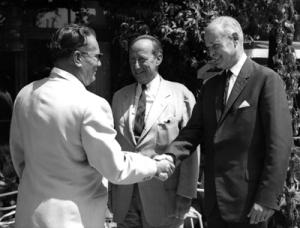 George F. Kennan, U.S. Ambassador to Yugoslavia, is greeted by Marshal Josip Broz Tito. U.S. Ambassador to the United Nations, Adlai Stevenson, looks on. Circa 1962-1963. Source: George F. Kennan Papers, Box 184, Folder 14.
Kennan, a diplomat and historian, is best known for writing the "Long Telegram" and the subsequent "X" article in Foreign Affairs in which he advocated for a new course in U.S.-Soviet relations that became known as "containment." Kennan, a 1925 Princeton graduate, was involved in diplomatic relations with the Soviet Union throughout most of his distinguished career in the U.S. Foreign Service. As a historian at the Institute for Advanced Study, he studied modern Russian and European history and became an important critic of American foreign policy. His papers document his entire career.