The richness and depth of the collections of the Princeton University Archives are the focus of "'The Best Old Place of All': Treasures From the Princeton University Archives," a new exhibition at the Seeley G. Mudd Manuscript Library opening Friday, Feb. 20.
The exhibition coincides with the yearlong celebration of the 50th anniversary of the establishment of the University Archives and features some of the most historically significant documents and objects from the collection alongside seldom-seen treasures. It will run through Friday, Jan. 29.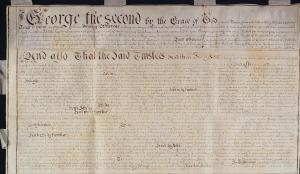 "The goal of this exhibition is to illustrate the University's long and impressive history and, in doing so, to celebrate and reflect upon the vital role of the University Archives in preserving and documenting that record," said University Archivist Dan Linke.
Featured in the exhibition are documents, photographs and objects from the University Archives covering the time of the institution's founding to the modern era. A page from the 1783 minutes of the Board of Trustees contains the trustees' request that George Washington sit for a portrait so that they might replace the work of King George that was destroyed in the Battle of Princeton. Nearby, a draft of then-University President Woodrow Wilson's vehement argument on the matter of the location of the Graduate College hints at another battle fought on campus more than a century later.
Many of the objects capture the ever-changing nature of student life and academics at Princeton. Early course examinations, class schedules and a set of handwritten student lecture notes from the time of John Witherspoon (who was University president from 1768 to 1794) exemplify how, though times may have changed, the purpose of the typical Princeton student has remained largely the same. One notable exception to that credo can be seen in the form of a so-called "cheating cuff," which hearkens back to the days before the Honor Code. Early 20th-century football programs and photographs from Triangle Club shows point to extracurricular pursuits.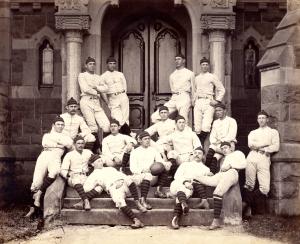 In addition to paper documents and photographs, "'The Best Old Place of All'" draws upon the extensive memorabilia collection of the University Archives. Items such as canes, clay pipes and the Reunion jacket of Adlai Stevenson — the influential politician and diplomat who graduated from Princeton in 1922 — are all a part of the University's heritage. Other objects such as the discus that 1897 alumnus Robert Garrett threw in the 1896 Athens Olympics and a blackball box used during eating club "bicker" selections represent some of many curiosities that have found their way into the archives in the last 50 years.