Dear Mr. Mudd:
What is the origin of the stars on Princeton University buildings? Is there any database listing the location of each star?
The bronze stars on window sills of Princeton University dormitories commemorate the University's students and alumni who died in World War I, World War II, the Korean War, and in the Vietnam War. An additional 13 bronze stars honoring those who died on September 11, 2001 are located in a memorial garden between East Pyne and Chancellor Green.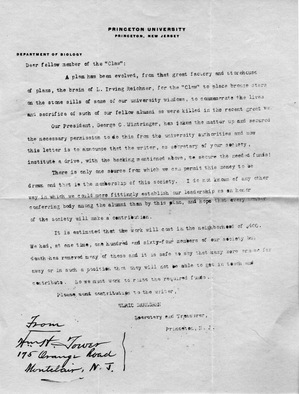 Letter from the Society of the Claw to members seeking funding for the initial stars.
The original 140 stars, honoring students who lost their lives in World War I, were placed in 1920. These stars were donated by members of the Society of the Claw, an organization of members of the Class of 1894 who, as a sign-on condition, promised to either attend the next five reunions or every reunion throughout their lives. The Society also inducted honorary members who had done an "unusual service" or "brought exceptional honor" to Princeton, such as Woodrow Wilson '1879. The Society of the Claw raised $431.65 for these stars, which were then placed on the window sill of each dorm room last occupied by a Princeton student who lost his life in the war.