The Mudd Manuscript Library recently acquired an extremely interesting collection from a little-noted event in political history.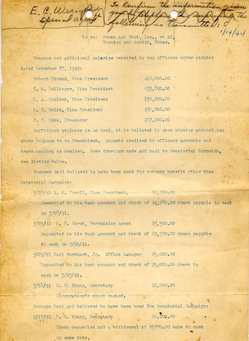 Between 1942 and 1944, Elmer Charles Werner led an Internal Revenue Service investigation of Brown & Root's* covert financial support of then U.S. Representative Lyndon B. Johnson's failed 1941 U.S. Senate campaign. According to Werner's records, this investigation was impeded and eventually terminated by a complicated series of requests from Johnson to Roosevelt's White House to senior IRS officials.
This collection includes Werner's diaries from 1942-1945 (the period during which Johnson was investigated); Werner's notes and newspaper clippings regarding the case; a chronology of the facts of the case prepared by Werner; and Werner's manuscript narrative regarding his experiences which he entitled "How High Can an Income Tax Fix Go?"
Many years before their transmittal to Mudd, these records were central sources for a chapter in Robert A. Caro's book The Years of Lyndon Johnson: The Path to Power (1981). There, Caro explains how Johnson's connections to the Roosevelt White House prevented the IRS investigation from exploring the full scope of Brown & Root's secret contributions to the Johnson campaign.