What happens to Facebook profiles when the owner dies?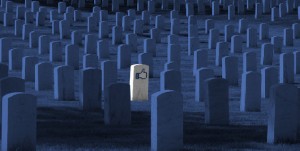 Because Facebook has over 500 million users, it comes as no surprise that around 8,000 Facebook users die every day. When a loved one passes, what can you do to make sure that their Facebook profile is taken care of? Facebook has thought of this, and has created the "Report a Death" form under the help section of their website. Rather than having the account deleted, the profile is "memorialized" so that friends and family can still see the user's recent activity and can post loving remembrances/condolences. A form must be filled out and submitted to Facebook for approval before the profile is memorialized: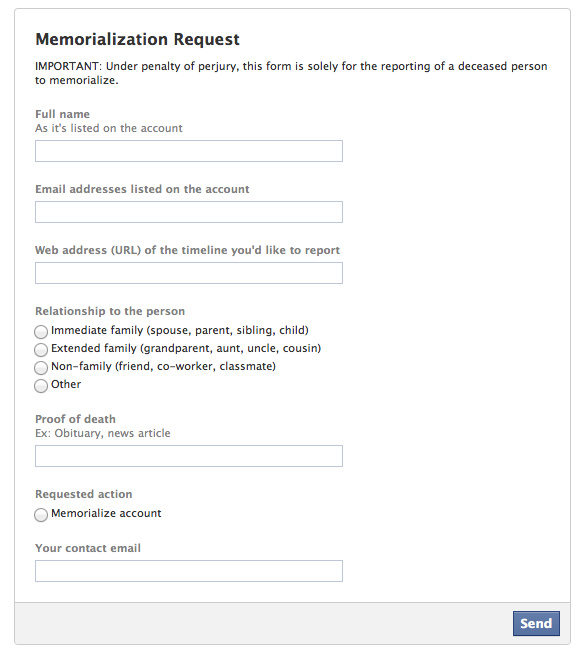 With a memorialized account, no one can sign in to use it but the profile is still active. Only friends that were confirmed before the death can post on the profile or search for it. To avoid confusion, the account can no longer be found publicly (for example, from a Google search) and prevents the profile from being suggested as friends to other users (imagine that shock!). Only immediate family members of the deceased can request for the account to be deleted, and a separate form is required.
Information regarding postmortem activity is included in Facebook's privacy policy within their Terms of Use. By checking the "I Agree" box, one is literally signing their "online life" away – or at least their control over their profile after death. Comparatively, Facebook's policies are rather thorough and comprehensive. Myspace received a lot of attention for doing a poor job of monitoring users' profiles after death, and also took a long time to confirm deaths for users. Several popular blogs were even dedicated to matching active Myspace profiles to obituaries. At least, with Facebook hiding the profiles from public searches, the accounts will not be used for blogosphere fodder.
However, Facebook has clearly not perfected their system for deceased users. Theoretically, pranksters are weeded out by needing to provide "proof of death" on the memorializing form, typically by providing a link to an online obituary. Apparently this "proof" is not terribly hard to fabricate, because one day Brett Millet tried to log onto his Facebook only to find this concerning message:

After some searching, he found a useful section of the Facebook help section: My Personal Account Is In A Memorialized State. While he may have been relieved, he clearly is not the only person to have experienced this issue. It is quite concerning that Facebook anticipated so many mistakes in their memorializing process, enough to create a unique section for it on their site.
Some users are also dissatisfied with Facebook's way of handling death. Multiple Facebook apps have popped up that offer an alternative, including Evertalk, My Memorials, and Memorial Candles. These apps are purely contained within Facebook as an alternative to Facebook's profile memorializing process.
I sincerely hope that none of us have to deal with the death of a loved one, and are forced to address their Facebook profile. If that is the case, I hope this information has been helpful.