Are you thinking….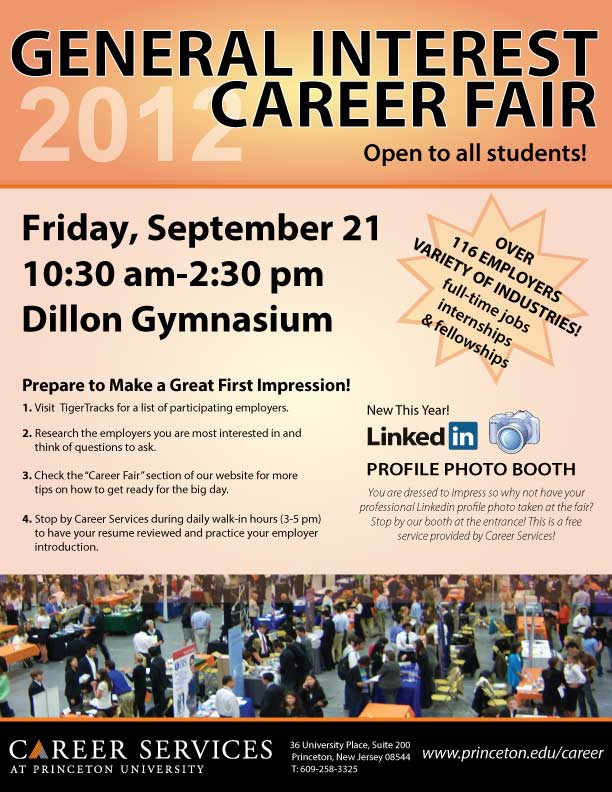 Should I go to the career fair? I don't know…I'm not a senior yet. How useful could it be?
VERY useful. Here's the deal. This Friday over 116 employers will assemble in Dillon Gym to meet YOU and tell YOU about their organizations. If you're interested in a full-time job, an internship, or a fellowship, the career fair is a great way to meet representatives of your prospective career or post-grad path. If you are a junior or senior, you probably already knew this. If you are a freshmen or sophomore, you may wonder if it is worth your time to go, or if it is too soon in your college career to speak with employers.
No matter what your class year, you are probably NOT thinking: "This is going to be a breeze."
Why shouldn't it? Sure, everyone's in suits (including you!), but a formal environment doesn't mean that this isn't also a learning opportunity. If you're a freshman or sophomore, this is a great event to attend to get a feel for various industries and to learn how to make a crisp first impression. If you're nervous, here's the remedy.
Just think: What does camping in the wilderness and going to a career fair have in common? Answer: You'll be better off doing both if you're prepared. 
Here are three ways to get the preparation you need to thrive, not just survive:
Check out Career Fair tips here. There's more that a little finesse involved in "working" the career fair. These tips will take you from just another student in the crowd to that student—the one on top of her/his game who makes an unforgettably sharp impression. That can—and will—be you!
Research participating employers. TigerTracks has a list of all the employers you'll meet. Pick some favorites, and do a good Google search. Then, plan some company-specific questions to get the conversation flowing. It will look good when employers see you're curious AND that you know a thing or two about their companies. 
Get feedback. Career Services is offering extended walk-ins from 2-5 pm every day this week until Thursday. Counselors will offer friendly, expert feedback on your resume and elevator pitch (the way you will introduce yourself to employers). If you've never been to a career fair before, this is an excellent opportunity to get prepared.
Okay, if you are thinking: "This isn't for me. I enjoy curling up with a good textbook. I'm not a meet and greet type of person."
I have two things to say to this. One, of course you are! You're (clearly) smart, talented in your own ways, and, if the median person on campus is any indication, you're really, really, ridiculously good looking. Two, in that case at least come for the LinkedIn Photo Booth. Career Services will be offering free professional headshots near the gym entrance. This is a great way to professionalize your LinkedIn profile and get rid of that mystery photo at the top of your page. 
Looking forward to seeing everyone at the fair—come early and come prepared!