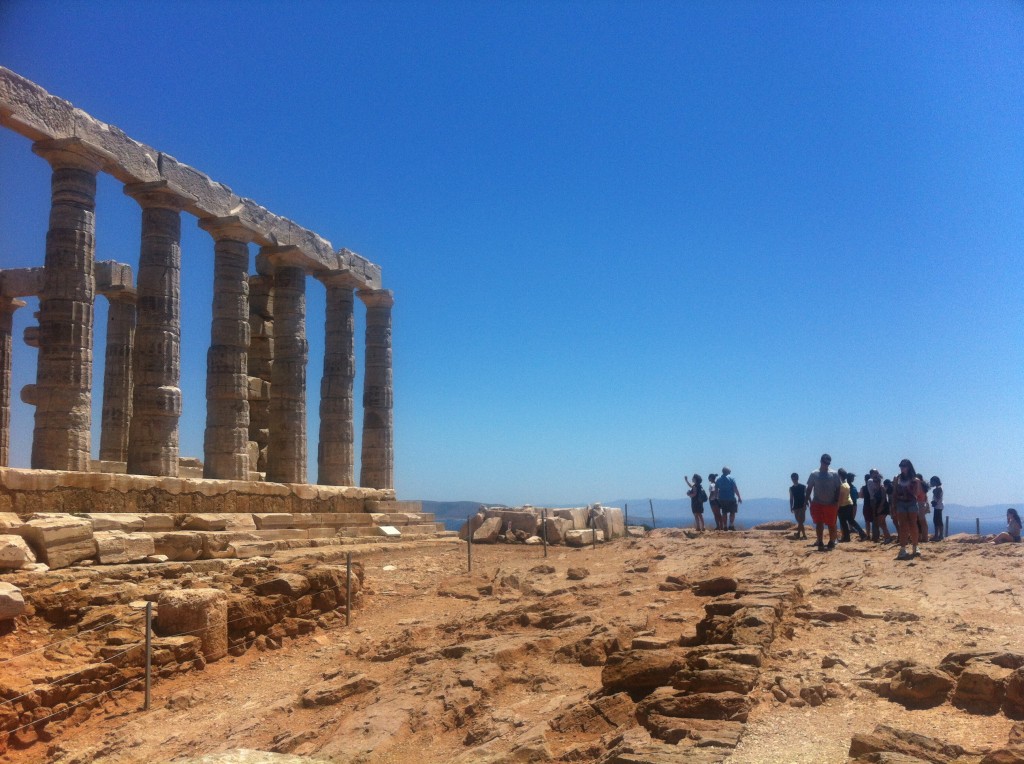 On Friday, we spent our day traveling to the southernmost tip of Attica, Thorikos and Cape Sounio.  We took a coach bus with a new tour guide, Αγγελικι, aka Λενα.  Our first stop was at Thorikos, which is home to one of the oldest theatres in the world. The theatre is from the 6th century B.C.  We don't exactly know what was performed in this theatre, because it predates the ancient plays, but we assume that choral performances took place here.  From the rows of seats, by seats I mean reconstructed slabs of rock, you can see water which harbors Greece's "Long Island."  Their Long Island is a bit different from ours, as it was used as a prison, most famously from the mid 60's to mid 70's to hold political (communist) dissenters.
Thorikos isn't only famous for its ancient theatre, but also for its silver mine.  In fact, there is a mine entrance right next to the theatre.  When this ancient Greeks were deciding what to do with this prosperous collection of silver, they found that they had two options.  The option which was originally under discussion was a plan that would distribute silver to all of the Athenians.  I'm sure this was enormously popular.  The other idea, brought forward by a man named Themistocles was to build an enormous navy which would set Athens apart from all the other city states.  In the end, the Athenians decided that a navy was probably the best choice of action, a choice that definitely paid off during the Persian Wars.
After Thorikos we headed to Cape Sounio.  Now this is a truly amazing place. The Cape is surrounded by water on all sides, except for the small stick of land that keeps it attached to the coast.  On the crest of the Cape is the Temple of Poseidon.  From this Temple you can see all of the ships that pass in and out of the ports surrounding Athens. In ancient times, a ship would depart from port and then stop at the Temple.  The shipmates would pray at the Temple and likely make a sacrifice or give a gift to the God in order to ensure a safe journey across the Mediterranean.  Out of all the places we have been in and around Athens, this is my favorite spot.  The wind is constantly blowing and you can feel the presence of something powerful on the Cape.
On our way back from Cape Sounio, we drove along the southern coastline back toward Athens.  I've never seen water as clear and turquoise as this water. As a northeasterner I'm always stunned by water that isn't a dark blue/green mass of angry waves.
After much deserved 3-hour siestas, we ventured out to a bar to support the Greeks in their attempt against Germany.  Though it was a rough game, the bar we were in was a blast: Small, cramped, lots of Greeks, lots of American music from the 70's. It was happenin'.  We are planning another excursion there on Wednesday to watch Portugal v Spain, or possibly Thursday  to watch Germany v Italy
Our day on Friday was tiring, but followed by a completely free weekend of just rehearsing and fleamarket adventures.  Though we had quite a theatrical experience Sunday night, which will be blogged soon.
Greece remains as ζεστι (hot) as ever! Stay φρεδο (cool, or iced… I forget!)
-Savannah (not Annika)