Not many collections in the Public Policy Papers at Mudd Manuscript Library contain audiovisual materials. John Van Antwerp MacMurray's films of China, which were featured over the past nine weeks, and the American Civil Liberties Union records are an exception. So we were very excited when a preservation survey led to the discovery of an unlabeled film reel in one of the most researched collections: the papers of John Foster Dulles, Secretary of State under President Dwight Eisenhower from 1953 until his death in 1959. But the canister smelled nasty, a sign that it contained highly combustible nitrate film.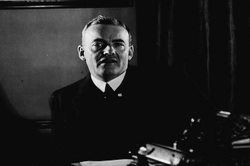 The film, however, was in stable enough condition to be digitized. It turned out to be a Pathé newsreel from around 1934, in which a very young Dulles, an international lawyer at the time who served as American representative at the German Debt Conferences of 1933-1934, discusses France's "war debts." France was one of the many European nations who were indebted to the US Treasury for loans made during and immediately after World War I (a total of over 10 billion dollars for all countries). Dulles had participated in the American Commission to Negotiate Peace in Versailles (1918-1919), and in the Reparations Commission (1919).
It turns out that British Pathé still owns the newsreels as well as the copyright. This means that we will not be able to post the newsreel ourselves. If you click the image below you will be directed to the Pathé site instead, where you can not only view the Dulles newsreel but access all other Pathé newsreels too. A fascinating resource!
Your browser does not support iframes.
For us, the existence of the Pathé archives as well as having our own digital copy means that we can safely dispose of the combustible newsreel far away from Mudd Library's holdings.