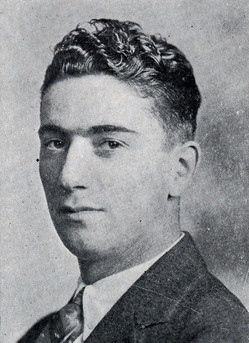 Primarily known as a Major League catcher and coach, Morris "Moe" Berg was also a spy for the Office of Strategic Services (OSS) in World War II, as well as a lawyer, linguist, and Princeton graduate. As a member of the class of 1923, Berg excelled scholastically and athletically by graduating with honors in Modern Languages (he studied Greek, French, Spanish, Italian, German, and Sanskirt), and playing first base and shortstop for the Princeton Tigers. While his batting average was low- Berg inspired a Major League scout to utter the phrase, "Good field, no hit"- he was known at Princeton for his strong arm and sound baseball instincts.[i]
The exhibit highlights the varied roles of Berg in its presentation of Princeton memorabilia from the class of 1923, Berg baseball cards, and other material culled from Mudd's two collections on Moe Berg:
The Moe Berg Collection (1937-2007)
, and the newly acquired
Dr. and Mrs. Arnold Breitbart Collection on Moe Berg (1934-1933).
Also on display is a 1959 baseball signed by Berg and other Major League players, on loan from Arnold Breitbart. The Moe Berg exhibit can be located in the lobby of the Seeley G. Mudd Manuscript Library, and will be on display until August 31.