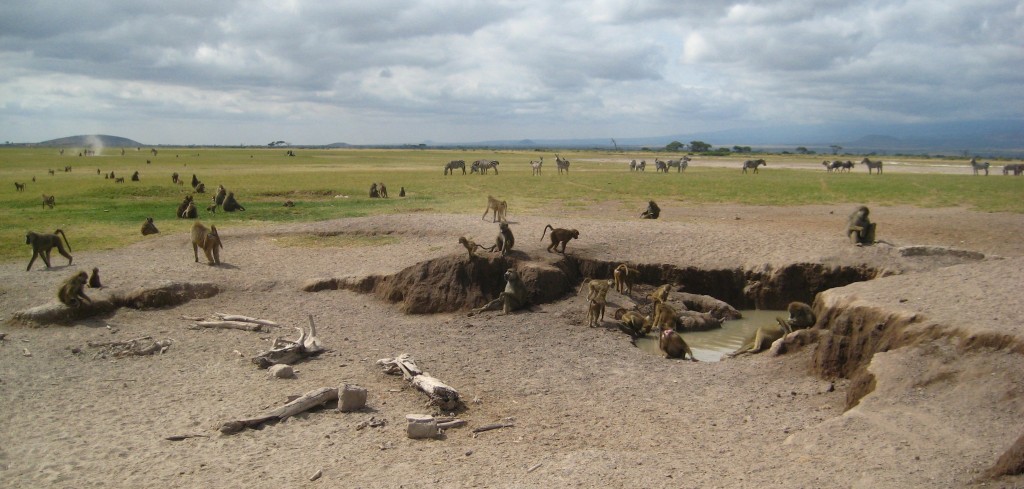 By Gregory Filiano, Stony Brook University
Living with others can offer tremendous benefits for social animals, including primates, but these benefits could come at a high cost. New research from a project that originated at Princeton University reveals that intermediate-sized groups provide the most benefits to wild baboons. The study, led by Catherine Markham at Stony Brook University and published in the journal, Proceedings of the National Academy of Sciences, offers new insight into the costs and benefits of group living.
In the paper titled "Optimal group size in a highly social mammal," the authors reveal that while wild baboon groups range in size from 20 to 100 members, groups consisting of about 50 to 70 individuals (intermediate size) exhibit optimal ranging behavior and low physiological stress levels in individual baboons, which translates to a social environment that fosters the health and well-being of individual members. The finding provides novel empirical support for an ongoing theory in the fields of evolutionary biology and anthropology that in living intermediate-sized groups has advantages for social mammals.
"Strikingly, we found evidence that intermediate-sized groups have energetically optimal space-use strategies and both large and small groups experience ranging disadvantages," said Markham, lead author and an assistant professor in the Department of Anthropology at Stony Brook University. "It appears that large, socially dominant groups are constrained by within-group competition whereas small, socially subordinate groups are constrained by between-group competition and/or predation pressures."
The researchers compiled their findings based on observing five social wild baboon groups in East Africa over 11 years. This population of wild baboons has been studied continuously for over 40 years by the Amboseli Baboon Research Project. They observed and examined the effects of group size and ranging patterns for all of the groups. To gauge stress levels of individuals, they measured the glucocorticoid (stress hormone) levels found in individual waste droppings.
"The combination of an 11-year data set and more intensive short-term data, together with the levels of stress hormones, led to the important finding that there really is a cost to living in too small a group," said Jeanne Altmann, the Eugene Higgins Professor of Ecology and Evolutionary Biology, Emeritus and a senior scholar at Princeton University. Altmann is a co-director of the Amboseli Baboon Research Project and co-founded the project in 1971 with Stuart Altmann, a senior scholar in the Department of Ecology and Evolutionary Biology at Princeton.
"The cost of living in smaller groups is a concern from a conservation perspective," Jeanne Altmann said, "Due to the fragmentation of animal habitats, many animals will be living in smaller groups. Understanding these dynamics is one of the next things to study." The research was supported primarily by the National Science Foundation and the National Institute on Aging.
Markham, who earned her Ph.D. at Princeton University in 2012 with Jeanne Altmann as her thesis adviser, explained that regarding optimal group sizes for highly social species the key to the analysis is how are trade-offs balanced, and do these trade-offs actually result in an optimal group size for a social species.
She said that their findings provide a testable hypothesis for evaluating group-size constraints in other group-living species, in which the costs of intra- and intergroup competition vary as a function of group size. Additionally, their findings provide implications for new research and a broader understanding of both why some animals live with others and how many neighbors will be best for various species and situations.
The research was conducted in collaboration with Susan Alberts, a professor of biology at Duke University and co-director of the Amboseli Baboon Research Project, and with Laurence Gesquiere, a former postdoctoral researcher at Princeton who is now a senior research scientist working with Alberts. Altmann and Alberts are also affiliated with the Institute for Primate Research, National Museums of Kenya.
Additional support was provided by the American Society of Primatologists, the Animal Behavior Society, the International Primatological Society, and Sigma Xi.
Article courtesy of Stony Brook University.
A. Catherine Markham, Laurence R. Gesquiere, Susan C. Alberts and Jeanne Altmann. Optimal group size in a highly social mammal. Proceedings of the National Academy of Sciences. Published online before print October 26, 2015, doi: 10.1073/pnas.1517794112 PNAS October 26, 2015