"The Princeton of today is not the Princeton of Scott Fitzgerald. And by that I mean you can feel comfortable being Jewish, you can feel comfortable being Asian, you can feel comfortable being African American. And while this might not always have been true (…) it is definitely true today." The speaker is Erik Ruben '98 (1:46), one of the students featured in the promotional video below about the Center for Jewish Life, which opened in 1993. Today's entry takes a brief look at the history of the admission of Jewish students at Princeton since the 1920s.
F. Scott Fitzgerald's 1920 debut novel, This Side of Paradise, was set at Princeton and reflected the atmosphere of the eating clubs and of the university itself, which (not to Princeton's liking) he described as "the pleasantest country club in America." Fitzgerald wrote his book at a time when some northeastern colleges and universities, particularly in urban areas where many Eastern European Jewish immigrants had settled, perceived they had a "Jewish problem" in that if they admitted too many Jewish students, Protestant middle and upper class students would be driven away. Columbia, which had the largest Jewish enrollment at 40%, was the first to impose a quota in 1921. Princeton, however, always claimed not to use quotas. As late as 1948 Radcliffe Heermance, Princeton's first director of admissions from 1922 to 1950, vehemently denied a claim that Princeton used a quota to keep Jewish students under 4%. "We've never had a quota system, we don't have a quota system, we will never have a quota system" he told the Daily Princetonian.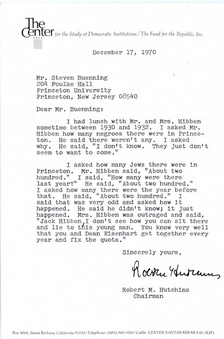 A letter from former University of Chicago president Robert Hutchins, who visited Princeton President John Grier Hibben in the early 1930s, indicated otherwise. Hutchins wrote Princeton senior Steven L. Buenning '71 In December 1970, as Buenning was seeking information for his senior thesis, a biography about Hibben. In the letter Hutchins recalls how he had asked Hibben about the number of Jewish students at Princeton. According to Hutchins, Hibben claimed that the number just happened, whereupon his wife exclaimed: "Jack Hibben, I don't see how you can sit there and lie to this young man. You know very well that you and Dean Eisenhart get together every year and fix the quota."
This anecdote has been quoted in several books, and in their footnotes the authors refer to Buenning's thesis only, which includes quotes from the letter. Above we reproduce the original letter, which is found in Hibben's presidential papers in the
Office of the President Records
(AC117, Series 14, Box 65, folder 6). The first paragraph, in which Hutchins recalls Hibben's professed ignorance about the reasons why black students did not come to Princeton, is remarkable in itself. Unlike Yale and Harvard, Princeton did not admit African American students  until World War II (the first four African Americans were in the Navy V-12 program).  For more information about African American students at Princeton, see our
previous blog
.
Heermance limited Jewish enrollment by developing an admission policy that put an emphasis on "character," which, however subjective, was still regarded as defensible in public. Criteria like "manhood," "leadership" "participation in athletics" and "home environment and companions" were assessed by using interviews, letters of recommendation, and a social ranking system. A powerful disincentive to even apply was the anti-Semitic reputation of Princeton's eating clubs, which considered most Jews "unclubbable."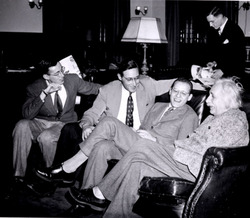 After World War II, greater social forces forced the University to begin to change.  In 1947, the Student Hebrew Association was founded and held the first Jewish service on campus, which was attended by Albert Einstein (right). A year later the student organization joined the Hillel Foundation, the national Jewish campus organization founded in 1923 and sponsored by the New York Jewish service organization B'nai B'rith. On October 1, 1948 Rabbi Irving Levey, the new director of Hillel on campus, directed his first Friday evening service.  The Prince wrote: "The establishment of Hillel at Princeton marks the recognition that members of all religious faiths shall have the opportunity to worship on the campus. The importance of Judaic thought and the spiritual needs of her Jewish students have at last received the recognition and constructive leadership they deserve."
During the following years, the number of Jewish students on campus increased.  In 1972 a kosher dining facility was established at Stevenson Hall, the first University-sponsored kosher kitchen in the Ivy League. Many students, however, thought it isolated, according to the
Prince
, and it attracted only the most traditional Jews. With Hillel's activities scattered around campus, and Reform, Conservative, and Orthodox groups having their services in different locations, the need was felt for a central location that would "unify Jewish life on campus" and create a community for religious as well as secular Jews. For over a year a group of students met, and together with Hillel director Rabbi Edward Feld, the Dean of the Chapel and the Associate Provost, and in consultation with members of the faculty and Hillel's Board of Directors, they drew up a plan for a new Jewish center.
In April 1986 the University announced the planning of the Center for Jewish Life at 70 Washington Road. According to a brochure for the fundraising campaign, the University building was to be extensively renovated to create an "outstanding facility that will include space for religious services, lectures and seminars, social events, a variety of extracurricular activities, and a University-run kosher kitchen." The architect for the project was Robert A.M. Stern. The project was kick-started with a $1 million donation by Michael Scharf '64, which was announced on
December 2, 1986
. The Center for Jewish Life (CJL) was
opened on 26 February 1993
, seven years after the plans were first announced.
When Cliff Stein, president of Hillel, was interviewed for an article in the Nassau Weekly on May 1, 1986, shortly after Princeton's announcement to establish the CJL, he told the paper that he still met prospective Jewish students who chose "less academically inviting colleges" than Princeton, because of Princeton's anti-Semitic reputation. "This building will go a long way to break down that image," he said. The above promotional film, produced three years after the opening of CJL and aimed at prospective Jewish students, should be viewed with this same history in mind.
Further reading: