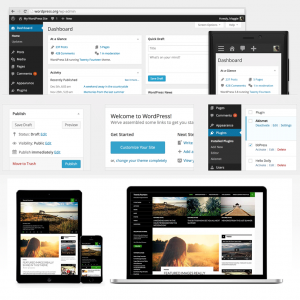 The following post is a quick overview of creating content in WordPress. The full text of the guide is after the break.
(Updated for WordPress 3.8)
---
Princeton WordPress Quickstart Guide
Logging in
If you are working with a new site on the WordPress service, you should find a log-in link in the site's sidebar menu. Click this link and enter your Princeton netID and password on the subsequent page to log in. Logging in should redirect you back to the site from which you originated, and the WordPress Admin Bar should now be across the top of the site.

If no log-in link is available, you can add wp-admin after the address of your site's front page, for example:
https://example.princeton.edu/wp-admin
https://blogs.princeton.edu/example/wp-admin
You can also visit the admin page for the main site in our WordPress network at  https://blogs.princeton.edu/wp-admin. Then use the My Sites link in the Admin Bar to navigate to your site's Dashboard. From the Dashboard, you can add posts or pages, change themes, etc.
Posts and pages
WordPress allows you to post content via two main content types: posts and pages. Posts are what people generally think of with blog publishing. Posts are pieces of content associated with the date they were composed. Using posts, the front page of a site, for example, can display many posts in chronological order. Pages are usually more static, such as an "About me" page. Page navigation in WordPress sites is often via a horizontal menu that can be hierarchical.

Select either Post or Page from the left hand menu, and then click on the Add New link. After you have created a post or page, click Publish to add it to the site. You can see how your new post or page looks on your site by clicking the Preview button or View Post.
You can also go back and edit an existing post. Click on Posts (or Pages) in the left-hand menu then hover your mouse over the title of the post you would like to edit. Several links should appear directly below the title, including one labeled Edit.
Tags and categories
WordPress allows you to attach tags and categories to posts. These serve similar, but slightly different functions. You can group your posts into Categories in case you later want to display them as a menu on your site. Tags can mark or label posts with a specific word so it is easier to search for them on your site. To add a tag or a category to your site, you can go to Posts in your Dashboard and choose either Categories or Tags. You can also add new tags or categories while editing a post or choose previously entered tags or categories.
Adding images, documents, video, and audio
You can add images, video, audio, and documents to a post or page. Above the text box in the editor, you there is an Add Media button. Clicking that button opens a dialog with a drag-and-drop interface that dynamically detects the type of media you are uploading. You will have a choice of adding a file from your computer, or from the collection of files you have already uploaded (Media Library). You can also create an image gallery or insert an image from a URL via this dialog.
You can fill in metadata and choose where to position the image or media in the post. To comply with Federal and University accessibility requirements, make sure you fill in the Alternate Text field for images.
The maximum file upload size on our WordPress network is 5 MB. You may want to store larger videos on an external video sharing service. For YouTube videos or MediaCentral videos, you can simply copy the video URL and paste the plain text URL into the post. The dynamic embedding feature (oEmbed) will take care of the rest.
Changing the theme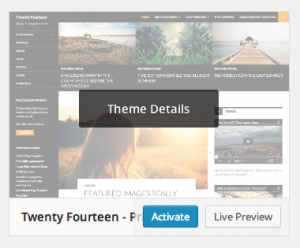 You can change the design of your site by changing the theme. Click on the Appearance link on on the left side of the Dashboard to choose a theme. You can click on the theme to see a live preview of how that design will look with your content. Once you have selected a theme, click on the Save & Activate link at the top left of the live preview window or click the Activate button that appears when you hover over the theme's thumbnail image. Depending on the theme, you can also modify the header image by cropping an image from your media library or uploading a new image to give your blog a unique look and feel. You can do this through the Appearance menu dropdown. Different themes will often have theme-specific options and theme-specific widgets.
Adding a list of links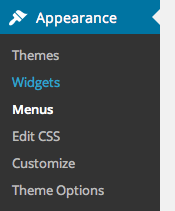 One way to add a list of links to your site is to select the Menus link in your Dashboard. Give your custom menu a Menu Name, then you can click the Create Menu button. The interface on the left side allows you to add any number of Links to the drag and drop interface. To display that custom menu on your site, you will have to add a Custom Menu widget. This widget will allow you to choose one of your newly created menus from a select menu. The Widgets interface is under the Appearance menu in the Dashboard. To activate the Custom Menu widget, drag it to your desired widget area. The links should automatically appear on your site.
Moderating comments
If you want to see, control, or reply to comments left on your site, click on the Comments menu on the left-hand side of the Dashboard or click the speech balloon button in the Admin Bar. Here you can see all comments that are left at each post (including replies that you, as the author, have made to comments). You can mark certain comments as spam, or you can approve the comment, and it will be published to the post or page.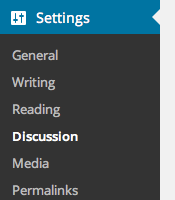 To set up certain rules for spam, comment moderation, and blacklist certain words so they never show up on your blog, go to Settings and choose Discussion. Here you can indicate how comments should be moderated and whether you should be notified when comments are added to the site. Click Save Changes at the bottom when you are finished. You also have the option to completely turn off comments for an individual post or page from that post or page's edit screen.
Logging out
To log out of your WordPress site, go to the top right corner of the Admin Bar and hover over the "Howdy" link. In the dropdown menu, you will see a menu option for you to log out. Once you log out, you will need to sign in again to make any edits or changes to your blog.
Additional help
Additional help can be found at Lynda.com under the following WordPress course: WordPress Essential Training.
This entry was adapted from a 2011 post by Angel Brady.