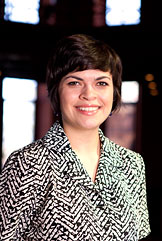 PLAS concentrator Alissa Escarce '11 has been awarded the University's Henry Richardson Labouisse '26 Prize, which will allow her to devote a year of service and research related to migrant workers' rights.
The Labouisse fellowship provides $25,000 to each recipient to support research in developing countries by graduating seniors who intend to pursue a career devoted to problems of development and modernization. The prize was established in 1984.
Escarce, a history major pursuing a certificate in Latin American studies, will spend the year in Mexico working with Centro de los Derechos del Migrante (CDM), a transnational workers' rights law center. She will help expand the capacity of a new CDM office in the southern Mexican state of Oaxaca by assisting with research on legal cases, preparing educational materials for outreach efforts, including workshops and a radio show, and performing administrative duties. Escarce also will document the effects of the United States' H-2 temporary visas on Oaxaca's indigenous Mixtec community, in part through interviews with local organizers, workers and their families.