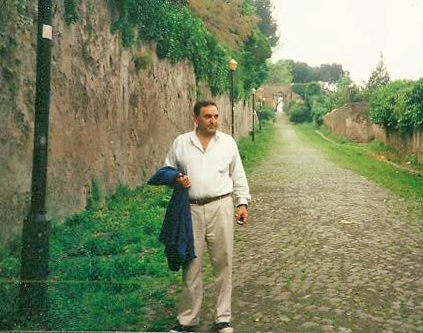 The Manuscripts Division has recently added the manuscripts of Argentinean writer Juan José Saer to its premier collection of archives, manuscripts, and correspondence by Latin American writers and intellectuals. The collection contains numerous notebooks, notes, and drafts of Saer's novels, essays, short stories, poems, and interviews. Several items in the collection are unpublished. Also included are background materials for Saer's posthumous novel, La Grande, and some photographs. A detailed finding aid is already available.
Juan José Saer, the son of Syrian immigrants to Argentina, was born in Serodino, a town in the province of Santa Fé, on June 28, 1937. He studied law and philosophy at the Universidad Nacional del Litoral in Santa Fé, and taught film history and criticism at the same institution. He moved to Paris in 1968, where he taught literature at the University of Rennes, and lived in that city until his death in 2005. Although Saer spent most of his literary life outside Argentina, much of his fiction was set on the area of northern Argentina known as el Litoral. Among his literary works are the novels Cicatrices (1968), El limonero real (1974), Nadie, nada, nunca (1980), El entenado (1983), La ocasión (1988), La pesquisa (1994), and the book of poems El arte de narrar (1977). Saer is considered by some critics to be the most important Argentinean writer of the post-Borges generation.
Photo caption: Photograph of Juan José Saer [Juan José Saer manuscripts, Box 13, Folder 9].