Whenever a building gets turned inside out, unexpected mementos of its past inhabitants are sure to emerge. The renovation of Firestone Library, a project scheduled to continue to 2018, has involved the demolition of several areas and the discovery of diverse ephemera. "Found in Firestone," a new exhibition in the main lobby of the University Library, shows some of the items left behind by the workers who built the Library and the students who have studied there.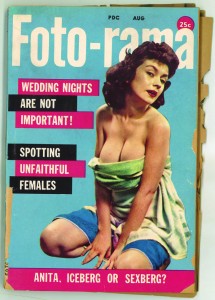 Perhaps not unexpectedly, a fair amount of pornography lurked in study carrels. Newspapers from 1948, the year Firestone opened, were stuffed behind old walls.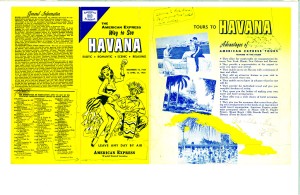 Travel seemed to be another theme: an 1850s guide for visitors to Oxford was found behind a cabinet, and a brochure for tours to pre-revolutionary Havana turned up in a carrel.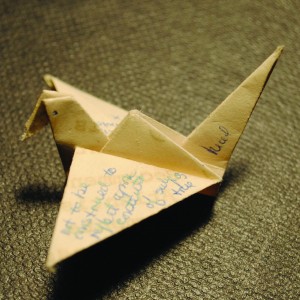 Perhaps the strangest object was an origami bird discovered in the back of Augustus Saint-Gaudens's 1889 bronze sculpture of University President James McCosh's head, with a note: "On March 20, 1969, 4:37 p.m. This particular paper was inserted in the orifice located posteriorally (to the subject's face) so that you, the discoverer of this message, will be cognizant of its significance."
These and other objects found by Ted Munz and his team from Massimino Building Company, the construction managers for the project, are displayed in a case beneath a rediscovered tapestry from the original faculty lounge. The exhibition, organized by Project Coordinator Margaret Kehrer and prepared by John Walako and Gretchen Oberfranc, is free and open to the public.