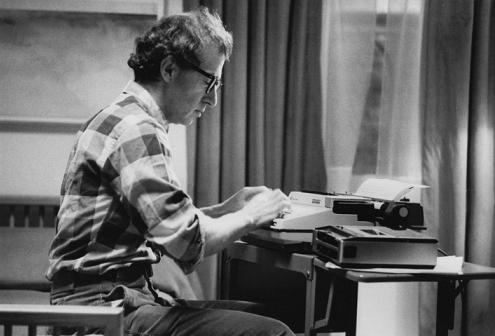 Campus visitors and faculty and students returning from Fall Break still have a chance to view a selection of Woody Allen film scripts on display in the Firestone Library.  The exhibition, "Woody Allen: The Screenwriter at Work," will continue through Sunday, November 17, in the Eighteenth-Century Window of Firestone Library.  On display are versions of What's New, Pussycat? (1965), Sleeper (1973), Annie Hall (1977), Manhattan (1979), The Purple Rose of Cairo (1985), Hannah and Her Sisters (1986), Vicky Cristina Barcelona (2008), and Midnight in Paris (2010).
Exhibition hours are Monday – Friday, 9:00-5:00, and Saturday – Sunday, 12:00-5:00.
The exhibition was held in conjunction with the October 27 question-and-answer session with the celebrated American movie director, screenwriter, and author in Princeton University's Richardson Auditorium.  A review of the Q & A session was posted on the Wall Street Journal blog: "Woody Allen Talks About Talent, Luck and Comedy at Princeton."
For more about the exhibition and the Woody Allen Papers at Princeton, see Woody Allen: The Screenwriter at Work.