Facebook users have recently been getting emails asking them to vote on the "global site governance." I received an email with the subject "Our Global Site Governance Vote," a couple of days ago, and decided to research what this vote was actually about.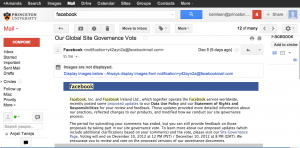 What I found was that Facebook is proposing changes to how it handles its users personal information. It opened its polls for its more than 1 billion users last Monday to vote on proposed changes to its current policies. One of the proposals would be to abolish the voting system itself (I talked about this in one of my past posts – the site allows users to vote on the rules for how it treats your information and privacy). In response to protests over changes it had made in its terms of service, Facebook established the voting system in 2009 so users would have a voice in how Facebook would deal with personal information. However, Facebook says that the voting system has not worked as it was intended (there is a huge lack of voters – in June, only 0.038% of Facebook's population at the time voted on Facebook's proposed two alternative versions of its statement of rights and responsibilities). As a result, it is proposing to keep users informed on policy changes with webcasts on privacy rather than giving its users the right to vote on policy changes.
So what exactly are you voting on? The social network site is proposing three main changes.
1)   Facebook would like to abolish the voting system – if the proposed changes are accepted, Facebook will no longer ask users to vote on policy changes
2)   Facebook wants the right to share user date with its affiliates such as Instagram
3)   Facebook wants to loosen restrictions on who can message you
Will your vote count? Because of a lack of turnout, your vote probably won't make a difference. On Facebook's site governance page, it says: "As stated in both policies, if more than 30% of all active registered users vote, the results will be binding. If turnout is less than 30%, the vote will be advisory." In the two previous votes that Facebook has held, none reached this threshold. Because Facebook has surpassed 1 billion users, this means that 300 million people would have to vote (that's roughly the size of the United States). As of last Wednesday, only 300,000 people had voted, most of who were not in favor of Facebook's proposals. Therefore, tonight, when voting ends, users will most likely lose the ability to vote on future changes to Facebook's privacy policy. Here are the latest results: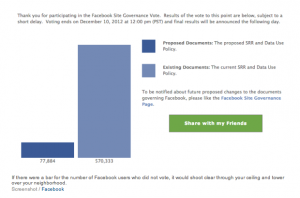 In order to vote, you have to click on the link that came with the email from Facebook.  Will you be participating?