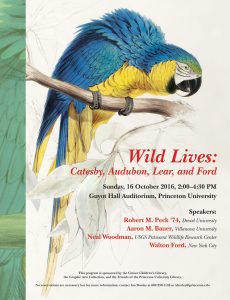 Please join us for Wild Lives: Catesby, Audubon, Lear, and Ford: an afternoon of talks sponsored by the Cotsen Children's Library, the Graphic Arts Collection, and the Friends of the Princeton University Library. The program will be in Guyot Hall Auditorium, Princeton University on 16 October 2016 from 2:00-4:30 p.m.
Speakers include Robert McCracken Peck, '74 is Curator of Art and Senior Fellow at the Academy of Natural Sciences of Wild Lives: Catesby, Audubon, Lear, and Ford University. He is the author of numerous books and articles on science and art, including his newest: The Natural History of Edward Lear (2016).  A Princeton alumnus, Peck has received honors from the Academy of Natural Sciences, the Explorers Club, and the Garden Club of America for his contributions to exploration and natural history.
Aaron M. Bauer is the Gerald M. Lemole Professor of Integrative Biology at Villanova University and Research Associate of the Smithsonian Institution, Museum of Comparative Zoology (Harvard University), California Academy of Sciences and Academy of Natural Sciences of Drexel University.  His research interests are in reptile systematics, morphology and biogeography and the history of natural history from the 16th to 19th centuries.
Neal Woodman is a Research Zoologist with the USGS Patuxent Wildlife Research Center and Curator of Mammals at the National Museum of Natural History in Washington, D.C.  His scientific research focuses on taxonomy, systematics, and functional anatomy of mammals, but he occasionally pursues topics in the history of natural history and has published on Major Stephen H. Long's Expedition to the Rocky Mountains, mammals described by the early nineteenth-century natural historian Constantine S. Rafinesque, and mammals in Chaucer's "The Pardoner's Tale."
Walton Ford's grand scale watercolors of animals expand upon the visual language of traditional natural history painting, meditating on the often violent and bizarre moments at the intersection of human culture and the natural world.  Although human figures rarely appear in his paintings, their presence is always implied. His work is included in a number of private and public collections, including the Smithsonian American Art Museum and the Whitney Museum of American Art.  Most recently, he exhibited his work at the Musée de la Chasse et de la Nature in Paris.  In 2010-2011, Ford's midcareer retrospective traveled from the Hamburger Bahnhof Museum Fur Gegenwart in Berlin, to the Albertina in Vienna and to the Louisiana Museum of Modern Art in Denmark. Ford lives and works in New York City.
The program is free and no reservations are required but for more information, contact Ian Dooley at 609-258-1148 or idooley@princeton.edu
Download Event poster: Wild Lives: Catesby, Audubon, Lear, and Ford.
Image: Edward Lear, Illustrations of the Family of Psittacidæ, or Parrots (London: E. Lear, 1832). Rare Book Division, Firestone Library, Princeton University.