Written by Miguel Caballero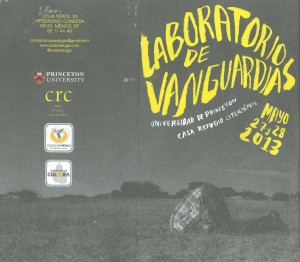 On May 27-28, 2013 Laboratorio de vanguardias de la Universidad de Princeton was held at Casa Refugio Citlaltépetl, in Mexico City. Hosted by Philippe Ollé-Laprune and presented by Professor Rubén Gallo, this laboratory was a platform for a group of nine Princeton PhD students to discuss their research in process on Latin American and Iberian avant-gardes with writers, artists, and an academic and nonacademic audience. The works covered a broad range of artistic manifestations from different countries of the Luso-Hispanic world and a vast time frame encompassing from the historical avant-gardes to contemporary artistic projects.
The idea of holding a laboratory was born out of the Seminar in Modern Spanish-American Literature: Avant-Garde, Media and Modernity (SPA 548/MOD 548), taught by professor Gallo in Fall 2012. In Mexico, the students presented advanced versions of the papers written for this seminar, structured around four main topics: Militancy, politics and public art; City and utopia; Debates on modernity; and Montage, assembly and collage.
Gerardo Muñoz talked on politics of theatricality in Cuba; Liz Hochberg on the relation between socialist realism and avant-garde in the Chilean writer Nicomedes Guzmán; Jorge Quintana on Estridentópolis, the utopian city imagined by the Estridentistas in post-revolutionary Mexico; Miguel Caballero on architectural avant-gardes during the Spanish Civil War; Sarah Town on the ballet H.P., by the Mexican composer and choreographer Carlos Chávez; Jennifer Rodríguez on the Dominican writer Ricardo Pérez-Alfonseca; Ana Fernández Cebrián on the radio programs, writings, and drawings by the Spanish Ramón Gómez de la Serna; Pablo Domínguez Galbraith on the technological amphibious SEFT-1 and the railway in Mexico; and Marcelo Diego on the montage in the poetry and photography by the Brazilian Jorge da Lima.
The students enjoyed a stimulating conversation with the audience, were individually interviewed by the TV network Canal 22 and also found time to enjoy Mexico City.