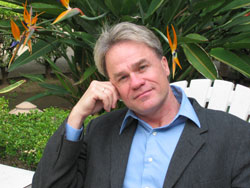 James N. Green is Professor of History and Brazilian Studies and a specialist on modern Brazilian history. As a young adventurer he traveled to Latin America with the plan to stay in Brazil for six months and ended up staying six years. There he participated in the opposition to the military regime and was a founder of the LGBT movement. After many other careers, he returned to academia to get a doctorate in Latin American history at UCLA. He has published two award-winning books, Beyond Carnival: Male Homosexuality in Twentieth-Century Brazil and We Cannot Remain Silent: Opposition to the Brazilian Military Dictatorship in the United States. He has served as the President of the Brazilian Studies Association and is currently working as a consultant with the Brazilian National Truth Commission that is investigating the State's violation of human rights during the military dictatorship. He is currently working on a biography of Herbert Daniel (1946-92), a former guerrilla fighter, alongside Brazil's current president Dilma Rousseff, political exile, and AIDS activist.
In Spring 2013 he will be teaching:
LAS 403 Latin American Studies Seminar – Politics/Culture During the Brazilian Military Dictatorship
This seminar focuses on the political, social, economic, and cultural changes that took place in Brazil during the civilian-military dictatorship that ruled the country from 1964-85. Using primary and secondary sources, as well as films and documentaries, we will examine why and how the generals took power, the role the U.S. government played before and after the coup d'etat in Brazilian affairs, the multiple political and cultural forms of opposition that emerged to challenge authoritarian rule, the process that led to democratization, and Brazil's new role as a global player and an economic powerhouse. Prerequisites and Restrictions: This course is open to undergraduate students and graduate students who fulfill one of the following requirements: (a) the student has intermediate knowledge of Portuguese; (b) the student has taken at least one previous course in modern Latin American history or a class related to Brazil; (c) the student has spent time in Brazil; (d) the student is convincingly motivated to learn about recent Brazilian history.
Schedule: S01 1:30pm-4:20 Th.