Article from Princeton University's News at Princeton; by Morgan Kelly, Office of Communications
In some ways, both of the theses Princeton University senior Sofia Quinodoz took on pertain to an unseen and not fully understood action that is nonetheless felt by those it afflicts, be it in the form of an infection or the void of a loved one suddenly erased.
As a molecular biology major, her primary thesis involves uncovering how bacteria communicate to coordinate group behaviors, such as their activity inside a host organism.
The thesis for her certificate in Latin American studies focuses on how Argentine families remember through
photographs the victims of the surreptitious government persecution known as the Dirty War. The photos are often the only remnant of people whose lives and deaths were considered so inconvenient that few records of either exist.
Quinodoz has a personal attachment to both of her projects. She grew up in Lansdale, Pa., with her chemist mother and engineer father, who both emigrated from Argentina in the mid-1980s. Influenced by her parents and an engaging high-school chemistry teacher, she knew the scientist's life was for her. This fall, she will begin pursuing her Ph.D. in biology at the California Institute of Technology with support from a 2013 Gilliam Fellowship from the Howard Hughes Medical Institute and a National Science Foundation Graduate Research Fellowship. She was one of nine recipients nationwide selected to promote diversity in the life sciences.
As a molecular biology major, Quinodoz's primary thesis involves working in the laboratory of her thesis adviser and Squibb Professor of Molecular Biology Bonnie Bassler to help unravel the processes behind the bacterial communication system known as quorum sensing. Quinodoz wanted to identify which proteins are important to this process and found four proteins that, if targeted medicinally, could impede a specific set of bacteria behavior. The Bassler lab will follow up on her work.
"I got excited about science and have been going down that path ever since [high school]," Quinodoz said. "Having my parents as role models in the sciences helped me see myself as a scientist."
Then there was what her parents — and most of her family, which still lives in Argentina — didn't talk to her about: when a military junta ruled Argentina from 1976 to 1983. When as many as 30,000 people suspected of being leftist guerillas, activists and sympathizers were killed or "disappeared," vanishing into a secret, nationwide network of government-run detention centers.
"I was amazed that my parents never mentioned that they grew up during that time," Quinodoz said. "It's a very unpleasant time period to discuss in Argentina. A lot of my family was surprised by my interest in that period because for them the Dirty War was always something secretive and not something to discuss in public at the time."
Princeton gave her a chance to pursue both of these seemingly unrelated subjects, Quinodoz said.
"Part of why I came to Princeton was because I knew that I could get a strong research background while pursuing a liberal arts degree," she said. "I knew that I wanted to major in the sciences, but I also was very interested in the culture and history of Latin America. I had spent several summers in Argentina visiting my extended family, but never had a chance to learn about the history of the country that my parents are from."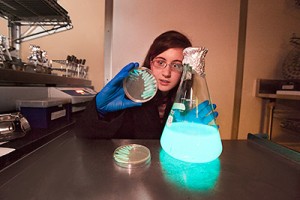 Quinodoz came to Princeton with an interest in chemistry, but decided on biology after experiencing it through the University's Integrated Science program. She realized that she loved scientific research after working in the biophysics laboratory of Eva-Maria Schoetz, a former Lewis-Sigler Fellow in the Lewis-Sigler Institute for Integrative Genomics who is now at the University of California-San Diego.
"I realized that as much as I enjoyed chemistry problems, I was fascinated by the research in biology," Quinodoz said. "Integrated Science introduced me to how complex and interesting the processes in cells and organisms are. I realized that I wanted to find out how cells make decisions and control important activities."
Since February 2012, she has worked in the laboratory of her thesis adviser and Squibb Professor of Molecular Biology Bonnie Bassler to help unravel the processes behind the bacterial communication system known as quorum sensing. The key focus of the Bassler lab is how bacteria coordinate behaviors such as infection. Interrupting quorum sensing could prove to be an effective treatment against bacteria that cause diseases such as cholera.
Quorum sensing involves coordinating the activities of hundreds of genes among a group of bacteria and Quinodoz wanted to identify which proteins are important to this process. She followed up on a Bassler-lab discovery that the dominant protein behind quorum sensing, known as LuxR, controls about 600 genes in the bacterium Vibrio harveyi, a marine-life pathogen and relative of the cholera agent, V. cholerae. To understand how LuxR controls so many genes, Quinodoz investigated four proteins controlled by LuxR and found that they regulate hundreds of genes. Treatments could target these proteins as a way to impede a specific set of behaviors, as well as preclude the tedious task of focusing on each individual gene in a bacterium's DNA that is controlled by quorum sensing, Quinodoz said.
Bassler said her lab will follow up on Quinodoz's research. As a scientist, she said, Quinodoz shows patience and determination, as well as an ability to use techniques and technologies that combine biology, chemistry and physics.
"Sofia found her niche and fell in love with this idea that Princeton is good at — that there are no barriers between disciplines. She really embraced that and it excited her," Bassler said.
"The fun and torture of biology is that you're stuck in this morass of incomplete knowledge," Bassler said. "There were times when Sofia didn't have the answer and muscling through those moments is the mark of a good scientist. She would try this or try that until she got the answers she needed. If that meant using biology today and physics tomorrow, she learned it herself or asked a colleague and that's the hallmark of a great scientist."
When photos resurrect
Perhaps like quorum sensing, photographic memorials for victims of the Dirty War communicate a message between counterparts. It's a message that mourns loss while rejecting that someone was "lost," as if removed with no trace or memory. What these individuals meant and what they left behind do not just disappear.
"Photography is the best way of counteracting the clandestine nature of the Dirty War," Quinodoz said.
"I explored how Argentine society utilizes photography to remember the disappeared. Memorials have photographs everywhere, and photo albums are used to document a person's entire life," she said. "As these photos recreate the life stories of the disappeared, they highlight the fact that family members lost their brothers, sisters or even parents during the Dirty War. Photos show that this absence is not just something that happened in the '70s — it's still happening today. The photos emphasize what's been lost."
With grants from Princeton's Program in Latin American Studies, Quinodoz visited former detainees, victims' families and official memorials in Argentina and Chile this past summer and winter.
Acknowledging the disappeared is a task that individuals, artists and even the government have undertaken, she said. Quinodoz visited the largest one-time detention center, the Navy School of Mechanics, or ESMA, which was converted into a national memorial. She examined the work of photographers such as Gustavo Germano who emphasize the absence of the disappeared by "rephotographing" old pictures and family portraits in the exact same location 30 years later — only with the disappeared missing. She met with individuals who keep meticulous scrapbooks, and documented public photo memorials constructed by survivors' groups such as Mothers of the Plaza de Mayo.
Yet justice is a deliberate process: There's an ongoing debate of whom to prosecute, when to do it and for what crimes. Some family members work to keep alive memories of people they never knew, Quinodoz said. People like Quinodoz who did not lose anyone wonder what to say to those who did — if anything at all.
"I wondered, 'Do you say you're sorry?'" Quinodoz said. "I talked to a woman whose parents disappeared when she was 3 years old, and she only got to know her parents through photographs. I had to be careful not to label her as 'a victim.' Throughout her whole life she struggled with the fact that her parents were disappeared because some people thought they were criminals, and yet those were her parents."
Thesis adviser Susana Draper, an assistant professor of comparative literature, said that Quinodoz ably captured how Argentines have woven an array of photos, recollections and versions of events into a single collective memory. The three "elegantly titled" chapters of her thesis bear the words that are key to the struggle to remember and acknowledge the disappeared, Draper said: Memory, Truth and Justice.
Quinodoz "did a great job reconstructing the story of how people remember the disappeared members of their family in the present, in which the only physical remnant is, sometimes, a photograph," Draper said. "Succinct and brief, her study shows the ways in which photography has been an essential medium for the creation and constant re-signification of a memory of the disappeared at different levels — the most personal and the most public."