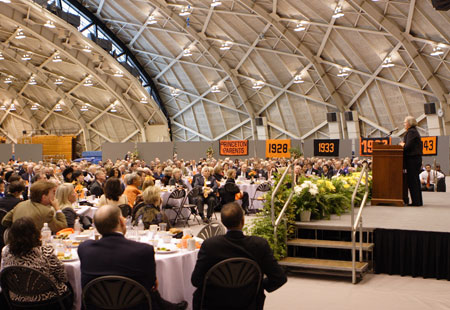 President Shirley M. Tilghman addressing alumni during the annual Alumni Day luncheon.
During the luncheon on Saturday, February 23, 2008, the University awarded its highest alumni honors. This year's Woodrow Wilson Award recipient was John Rogers '80, Chairman and CEO, Ariel Capital Management; and the James Madison Medalist was Lawrence P. Goldman *69, *76 (WWS), President and CEO, New Jersey Performing Arts Center.
Awards for service in Annual Giving and the Alumni Council Princeton Schools Committee, and top honors for seniors and graduate students were also conferred.
Photo: T. Kevin Birch