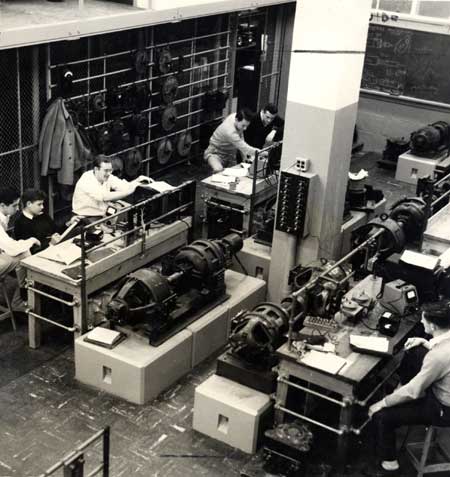 Students at work in the Brackett Machine Laboratories, Department of Electrical Engineering
The labs are named for Professor Cyrus Fogg Brackett, who founded the Department of Electrical Engineering in 1889, the nation's first program. A close associate of both Thomas Alva Edison and Alexander Graham Bell, Brackett came to Princeton in 1873. He personally designed much of Princeton's electrical system at the time, and it is rumored that his lecture room was the first electrically lighted classroom in America.
In 1921, the School of Engineering was formally established, growing from the School of Science. In addition to electrical engineering, there were undergraduate and graduate programs in mechanical, civil, chemical, and geological engineering.
Photo courtesy of Princeton University Archives