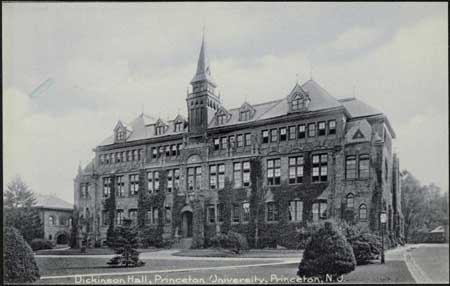 The first Dickinson Hall, named for Princeton's first president, stood where Firestone Plaza is today. Dedicated in 1869, it was the first academic building erected under the leadership of President McCosh and the first structure at Princeton given entirely to classrooms and lecture space.
The interior, one student recalled, was "a maze of corridors and staircases, with a thoroughly unfathomable numbering system." Room 21, lined by busts of great thinkers, was known as the "Hall of Horrors," because it served as the primary location for midterm and final exams. Dickinson Hall burned to the ground in May of 1920.
Photo courtesy of Princeton University Archives.