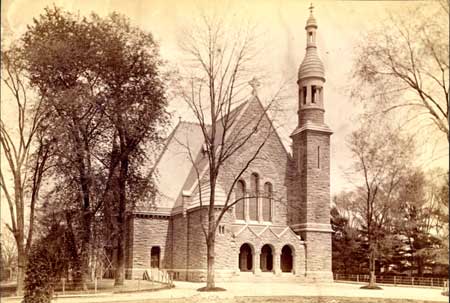 Marquand Chapel, dedicated on June 18, 1882, was designed by Richard Morris Hunt. A renowned example of the Romanesque Revival style, it was the gift of Henry G. Marquand, father of Allan Marquand, Class of 1874, who became the University's first professor of art and archaeology in 1882.
Marquand Chapel stood on the site of the present University Chapel until it was destroyed by fire in May 1920. The fire, which also destroyed the old Dickinson Hall, was contained by the efforts of volunteer firemen and an engine company from Trenton, aided by students in evening clothes who came over to help from house parties at the clubs and a freshman dance in the gym.
Photo courtesy of Princeton University Archives.